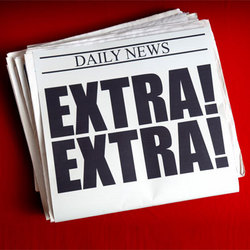 Business Models for New Realities: The Newspapers Industry's Video SEO Opportunity
Chicago, Illinois (PRWEB) February 17, 2009
Online video marketing information and solutions provider ReelSEO has released a first-of-its-kind, in-depth report on the opportunity for U.S. newspaper companies to grow their audience and advertising base using video search optimization (Video SEO, or "vSEO"). Written by Senior Analyst Grant Crowell, "Business Models for New Realities: The Newspapers Industry's Video SEO Opportunity" is the culmination of more than 2 years of industry research, along with numerous interviews with editors and publishers of newspaper companies nationwide.
Newspapers are struggling with harsh economic realities and are seeking creative new revenue sources, while transitioning their traditional print-centric business model to the where their audience has migrated -- the Internet. To help newspapers address this new reality, this report features:

A discussion of the opportunities and challenges newspapers face, and how Video SEO can improve their situations
A "best practices" checklist for what newspapers should look for in a Video SEO provider - be it an analyst, publishing platform, or analytics package.
Reviews with leading analysts and online video solutions providers
"There's been a great deal of discussion about the problems newspapers are having, but no real solutions proposed. We've found a solution for the oldest of the 'Old Media' (newspapers), and that's the newest of the 'New Media' (video)." states Crowell. "While newspapers are already producing large amounts of online video content, they have not been successful at optimizing the video for both traffic and monetization."
"As newspapers face increased competition in the online local media market, they are going to have to invest in video to meet consumer demand," states Tom Wilde, CEO for EveryZing, the sponsor of the report. "Video presents a great opportunity for publishers to leverage their audience development experience to maintain their market leadership positions. Grant Crowell's decade of experience in the space makes him the perfect source for best practices around this exciting new business opportunity for newspaper publishers."
"As competition grows to capture the attention of online video viewers, newspapers posses a unique opportunity to leverage their skills and superior content to capitalize on the financial promise of online video monetization." Says Mark Robertson, Founder and Publisher of ReelSEO and Director of Search for Freedom Communications. "In order to fully take advantage of the incredible opportunity that exists, it is critical that newspapers utilize best practices for publishing video content in a way that makes it easy for users to discover. ReelSEO is proud to offer this one-of-a-kind whitepaper that details the opportunity that exists for newspapers with online video and video search engine optimization."
Leading analysts are already regarding the white paper as a breakthrough for newspapers and other traditional print outlets seeking creative new revenue sources, including Greg Jarboe, President and co-founder of SEO-PR, and former newspaper staffer. Jarboe states, "If you do a SWOT analysis of newspapers, their strengths are in print, their weaknesses are online, but their opportunities are in online video, and their threats are legion. That's why newspaper executives should read this report today, not tomorrow."
"Business Models for New Realities: The Newspapers Industry's Video SEO Opportunity" is available for immediate download at the Web sites of both of the white papers' sponsors: ReelSEO and EveryZing
ReelSEO is also featuring a podcast show on Video SEO for the Newspaper Industry, with hosts Grant Crowell and Mark Robertson.
About ReelSEO
ReelSEO.com provides valuable news, research, analysis, tips, and other resources for video search optimization and online video marketing. Expert columnists research and analyze the latest options, offerings and trends in an effort to guide internet marketers and business owners towards best practices and online video services that suit their needs. ReelSEO and its partners also offer consulting services that cover the entire gamut of online video marketing and search engine optimization services.
About EveryZing
Based in Cambridge, Mass., EveryZing is a pioneer in next-generation universal search and video search engine optimization ("vSEO") technologies. EveryZing was originally founded by BBN Technologies, creators of the email @ symbol. The company's core intellectual property and capabilities include speech-to-text technology and natural language processing. With the only technology that delivers full-text output from online digital files, EveryZing enables its customers to capitalize on the $4 billion online video advertising market.
(Special thanks to PRWeb for their sponsorship of this news release.)
###