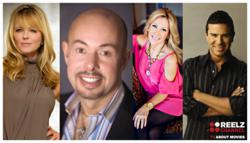 REELZ is fast becoming a fashion force in the world of celebrity style, giving viewers an intimate and exclusive look at all the incredible clothes gracing the red carpet from the Primetime Emmy Awards—one of the most star-studded events in entertainment
Albuquerque, NM (PRWEB) September 07, 2011
REELZCHANNEL—TV About Movies® today announced Cheryl Tiegs will host "Fashion Fanatics: Emmy Awards" to dish on all things fashion from the 63rd Primetime Emmy Awards alongside renowned jewelry and style expert Michael O'Connor, fashion guru Kym Douglas and Extreme Makeover star and celebrity stylist, Sam Saboura. Television's biggest night is also one of its most glamorous and host Cheryl Tiegs along with the Fashion Fanatics will dissect every detail, assess every outfit and declare the "best" and "worst" as seen at the Nokia Theater in downtown Los Angeles. O'Connor will join the Fashion Fanatics panel fresh off the Emmys red carpet to share his first hand accounts from the field as this style savvy group highlights the night's outstanding looks and fashion flops. "Fashion Fanatics: Emmy Awards" premieres Monday, September 19, 2011 at 7pm ET and at 8pm PT with several encore presentations throughout the week.
"REELZ is fast becoming a fashion force in the world of celebrity style, giving viewers an intimate and exclusive look at all the incredible clothes gracing the red carpet from the Primetime Emmy Awards—one of the most star-studded events in entertainment," said Lisa Lucas REELZCHANNEL Senior Supervising Producer. "With supermodel Cheryl Tiegs at the helm, the Fashion Fanatics style experts go on to dish about all the Hollywood glamour in a fun and entertaining way from the people who live and breathe it."
Supermodel pioneer and clothing designer Cheryl Tiegs is a world renowned fashion model featured in dozens of publications including Vogue, Elle, Sports Illustrated and Time. She has also created signature clothing lines for Sears, Roebuck and Co and QVC as well as an accessory line with Revlon and Cover Girl cosmetics. Michael O'Connor brings more than 25 years of experience in the fashion industry and is one of America's leading voices on jewelry, style and accessories as well as celebrity fashion trends. With her hilarious and insightful fashion, beauty and wellness tips on Ellen, The Fashion Team on TV Guide and Good Day LA, television personality and best selling author Kym Douglas is a seasoned fashion expert. Extreme Makeover star Sam Saboura also appears regularly as a style expert on Good Morning America, EXTRA and the Style Network while also designing his collection STYLED by Sam Saboura, which is sold exclusively on HSN.
Encore Presentations for "Fashion Fanatics: Emmy Awards"
Monday, September 19
7pm ET/ 4pm PT
8pm ET/ 5pm PT
11pm ET/ 8pm PT
12am ET/ 9pm PT
Tuesday, September 20
8am ET/ 5am PT
11am ET/ 8am PT
1pm ET/ 10am PT
4pm ET/ 1pm PT
6pm ET/ 3pm PT
10pm ET/ 7pm PT
Thursday, September 22
10am ET/ 7am PT
Friday, September 23
8am ET/ 5am PT
Saturday, September 24
11am ET/ 8am PT
7pm ET/ 4pm PT
Sunday, September 25
2am ET/ 11pm PT
Fashion Fanatics on REELZ
The network that's TV About Movies® is putting its viewers at the intersection of fashion, celebrities, entertainment and movies. In addition to the weekly segment Fashion Fridays on Hollywood Dailies where viewers see the hottest news in celebrity style, REELZ viewers have also seen Fashion Fanatics half-hour specials on Golden Globes and Academy Awards® fashion featuring commentary from jewelry and style expert Michael O'Connor and fashion designer Sue Wong among others. At the heart of REELZ fashion coverage is the quest to connect viewers to the looks of the stars with guidance from the biggest names in fashion and style.
About REELZCHANNEL
REELZCHANNEL—TV About Movies® is the only cable and satellite network devoted to delivering entertaining and informative programming that is all about movies, including the celebrities, fashion, music and stories behind the stories. With shows featuring movie and entertainment experts, including Leonard Maltin, Richard Roeper, Sam Rubin and John Salley, viewers get trusted insight into movies wherever they're playing, whether in theaters or at home.
REELZCHANNEL reaches more than 60 million homes on DIRECTV channel 238, Dish Network channel 299, Verizon FiOS TV channel 233, AT&T U-verse channels 799/1799HD and cable systems nationwide. Find REELZCHANNEL in your area by entering your zip code at http://www.reelz.com/watch. Owned by Hubbard Media Group, REELZCHANNEL is headquartered in Albuquerque, NM with an entertainment bureau in Los Angeles and sales office in New York.
For more information, please contact the REELZCHANNEL Media Line
877- REELZTV (733-5988) / pr(at)reelz(dot)com
###