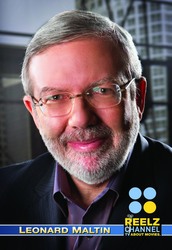 With Maltin on Movies he's expanding his REELZCHANNEL focus beyond hidden movie gems to share his insight about the most-anticipated and talked about movies in theaters and at home
Albuquerque, NM (Vocus) July 27, 2010
REELZCHANNEL—TV About Movies® today announced the debut of Maltin on Movies, hosted by Leonard Maltin, a new weekly show featuring his recommendations and reviews of movies in theaters and at home on On Demand, Pay-Per-View, premium channels, DVD and Blu-ray. Maltin on Movies kicks off with a bang as he takes on several highly anticipated movies including Disney's new musical Step Up 3D and the DVD releases of the box-office hit Clash of the Titans and the comic-book adaptation Kick-Ass.
"Leonard Maltin literally wrote the book and is one of the foremost authorities on movies bringing a depth of knowledge and wide-eyed enthusiasm that movie lovers understand and appreciate," said Stan Hubbard CEO of REELZCHANNEL. "With Maltin on Movies he's expanding his REELZCHANNEL focus beyond hidden movie gems to share his insight about the most-anticipated and talked about movies in theaters and at home."
Also featured on the premiere episode, Maltin reviews the new British thriller The Disappearance of Alice Creed, starring up-and-coming star Gemma Arterton and the DVD releases of the Oscar nominated A Prophet and the British film classic Black Narcissus (1947).
Maltin on Movies- Leonard Maltin - one of the country's leading film experts gives REELZCHANNEL viewers his unique take on movies every week. Whether in theaters, on DVD, Blu-ray, On Demand, Pay-Per View, or on television Leonard will review Hollywood blockbusters and sleepers alike. He will also reveal some of his favorite hidden gems - movies that you might have missed that he thinks are worth your time. Leonard will give viewers the information they need to help them decide what films to watch. Maltin on Movies is the chance to get reviews from one of the most respected movie critics of our time.
Leonard Maltin, the most respected film critic in America, has been on REELZCHANNEL since its inception. One of the most recognized film critics and historians, he recently began his 29th season with Entertainment Tonight. Long before he became a familiar face on TV, his annual paperback "Leonard Maltin's Movie Guide" established his reputation, starting with the first edition when he was only 18 years old. A perennial best-seller, 'The Guide' has become an indispensable tool for film fans, having been labeled "invaluable" by The New York Times. He also edits a companion volume, "Leonard Maltin's Classic Movie Guide."
He teaches at the USC School of Cinematic Arts, introduces movies on DirecTV Cinema and has written many books, including "The Great American Broadcast: A Celebration of Radio's Golden Age," "Of Mice and Magic: A History of American Animated Cartoons," "The Great Movie Comedians," "The Disney Films," "The Art of the Cinematographer," "Selected Short Subjects" and (as co-author) "The Little Rascals: The Life and Times of Our Gang."
Maltin's articles have appeared in The New York Times, The Los Angeles Times, The London Times, Premiere, Satellite Direct, Smithsonian, TV Guide, Esquire, The Village Voice and American Film. He is also a contributor to Oxford University Press' American National Biography. He frequently lectures on film, and was a member of the faculty of New York City's New School for Social Research for nine years. He has served as Guest Curator at the Museum of Modern Art film department in New York; in 1976 he programmed an eight-month salute to American Film Comedy to salute our country's Bicentennial. He served as President of the Los Angeles Film Critics Association in 1995 and 1996, and in 1997 was named to the National Film Preservation Board, to help select 25 films annually to join the Library of Congress' National Film Registry. In 2006 he was named by the Librarian of Congress to join the Board of Directors of the National Film Preservation Foundation. He has received awards and citations from the American Society of Cinematographers, Anthology Film Archives, The Society of Cinephiles, and the Telluride Film Festival.
Maltin has written a number of television specials and is active in the field of DVDs, hosting and co-producing the popular Walt Disney Treasures series and appearing on Warner Home Video's Night at the Movies features. Perhaps the greatest indication of his fame was his appearance in a now-classic episode of the animated series South Park. (Or was it Carmela consulting his Movie Guide on an episode of The Sopranos?)
He lives in Los Angeles with his wife Alice and daughter Jessie, and holds court at http://www.leonardmaltin.com.
Below are the air dates for the premiere episode on Friday, August 6th and encore presentations on Saturday, August 7th:
Friday (all times Eastern/Pacific)
1pm/ 10am Maltin on Movies
6pm/ 3pm Maltin on Movies
Saturday
9am/ 6am Maltin on Movies
4pm/ 1pm Maltin on Movies
2:30am/11:30pm Maltin on Movies
About REELZCHANNEL
REELZCHANNEL—TV About Movies® is the only cable and satellite network devoted to delivering entertaining and informative programming that is all about movies, including the celebrities, fashion, music and stories behind the stories. For a complete list of programs and to find where you can watch REELZCHANNEL TV in your area, go to http://www.reelzchannel.com.
REELZCHANNEL reaches more than 50 million homes on satellite and cable nationwide. In 2009, Nielsen recognized REELZCHANNEL as the eighth fastest growing network among all 95 cable networks measured in terms of number of homes. Owned by Hubbard Media Group, REELZCHANNEL is headquartered in Albuquerque, N.M.
For more information, please contact the REELZCHANNEL Media Line
877- REELZTV (733-5988) / pr(at)reelzchannel(dot)com
# # #