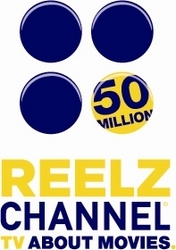 Albuquerque, NM (Vocus) May 4, 2010
REELZCHANNEL-TV About Movies® today announced that it is now carried in more than 50 million homes. The network added 5,169,000 homes in the past year, pushing the network past the important 50 million mark, according to Nielsen. REELZCHANNEL is now in 44% of all US TV homes which is 48% of all homes with cable or satellite dish connections.
"Fifty million homes is an important milestone for us and we are appreciative for our distribution partners in cable and satellite. Their confidence in REELZCHANNEL and commitment to their movie-loving subscribers is a great combination," said REELZCHANNEL CEO Stan E. Hubbard.
REELZCHANNEL, after moving its headquarters to Albuquerque, New Mexico in April 2009, continues to aggressively add to its program line-up having launched four new original daily shows and adding Richard Roeper to a growing list of movie experts that include Leonard Maltin. The network has experienced a ratings increase of 250% since it unveiled a new schedule in October 2009. As REELZCHANNEL continues to evolve its on air look, the network is building sets for new shows including an original series, My Favorite Movies, to debut coincident with its HDTV launch this summer.
"Our tremendous momentum and growing commitment is a potent force for helping our advertising partners achieve their brand objectives by delivering strong messages to movie lovers everywhere," said John deGarmo, SVP Sales and Distribution.
As part of REELZCHANNEL's transition to high definition, the network stays in step with technology favored by its movie-loving viewers. The recently redesigned website, reelzchannel.com, is engineered for use on mobile devices including iPhone and the iPad.
About REELZCHANNEL:
REELZCHANNEL - TV About Movies® is the only cable and satellite network devoted to delivering entertaining and informative programming that is all about movies, including the celebrities, fashion, music and stories behind the stories. For a complete list of programs and to find where you can watch REELZCHANNEL TV in your area, go to http://www.reelzchannel.com .
REELZCHANNEL reaches more than 50 million homes on satellite and cable nationwide. In 2009, Nielsen recognized REELZCHANNEL as the 8th fastest growing network among all 95 cable networks measured in terms of number of homes. Owned by Hubbard Media Group, REELZCHANNEL is headquartered in Albuquerque, N.M.
For more information, please contact the REELZCHANNEL Media Line
877- REELZTV (733-5988) / pr(at)reelzchannel(dot)com
###