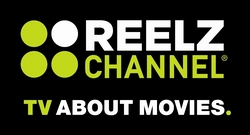 Albuquerque, NM (Vocus) May 26, 2010
REELZCHANNEL - TV About Movies® today announced the top 10 reasons to watch REELZCHANNEL in the month of June. Oh—and did we mention we're giving away free TV for a year?
10. Gator. Come and get him. We're talking Burt Reynolds and a whole lot of him. Gator, White Lightning, Impass—they're just some of his movies we're airing on REELZCHANNEL during Burt Reynolds Week, starting June 9.
9. Vampires. Edward, Bella and Jacob are still in their Bermuda triangle of love with the upcoming release of The Twilight Saga: Eclipse and we'll have four new episodes of Spotlight: Twilight to celebrate the release.
8. Brides, brides, brides. According to National Association of Wedding Ministers, June is the most popular month for weddings, so on Hollywood's Top Ten we'll count down the top ten bride movies.
7. Women directors. From the Oscar-winning The Hurt Locker by Kathryn Bigelow to Big by Penny Marshall, we're counting down the top ten movies directed by women on Hollywood's Top Ten.
6. More vampires. Encore presentations of the hit REELZCHANNEL series Twilight Weekly: Spotlight every Sunday in June from 5:30pm ET/ 2:30pm PT to 8pm ET/5pm PT.
5. Dueling divas. A special look at the music videos of Whitney Houston, Mariah Carey and, yes, Cher—only on Movies & Music.
4. Fandimonium. Every Friday, Hollywood Dailies breaks out the Twilight Tidbit for the week and with the third movie, Eclipse, hitting theaters June 30th, every bit helps fans get ready.
3. Burt's back. Breaking into the top three, it's Burt Reynolds stealing the screen in Breaking In on REELZCHANNEL, June 9th. 3a. Burt's front. See Cosmopolitan magazine, April issue from 1972.
2. Bad vacations. Hollywood's Top Ten presents the top ten bad vacations in movies. "Sorry folks, park's closed. Moose out front shoulda told ya." What movie was this line from?*
1. Free TV for a year! Connecting people to movies has never sounded so good—we're giving viewers a chance to win free TV for a year. Through the promotion, multiple winners will each enjoy $100 a month to use towards any programming package from a cable or satellite provider, including any combination of premium channels, On Demand or Pay-Per-View movies.
Starting May 31st, participants should enter their name and information online at reelzchannel.com/win and then watch Hollywood Dailies and Naked Trailers every day in June to hear their names called. Viewers chosen have 24 hours from the episode premiere to send in an email to win(at)reelzchannel(dot)com letting us know they heard their name and want free TV for a year.
*That line comes courtesy of Lasky (John Candy), the security guard at Wallyworld in the movie National Lampoon's Vacation.
About REELZCHANNEL:
REELZCHANNEL —TV About Movies® is the only cable and satellite network devoted to delivering entertaining and informative programming that is all about movies, including the celebrities, fashion, music and stories behind the stories. For a complete list of programs and to find where you can watch REELZCHANNEL TV in your area, go to http://www.reelzchannel.com .
REELZCHANNEL reaches more than 50 million homes on satellite and cable nationwide. In 2009, Nielsen recognized REELZCHANNEL as the 8th fastest growing network among all 95 cable networks measured in terms of number of homes. Owned by Hubbard Media Group, REELZCHANNEL is headquartered in Albuquerque, N.M.
For more information, please contact the REELZCHANNEL Media Line
877- REELZTV (733-5988) / pr(at)reelzchannel(dot)com
# # #