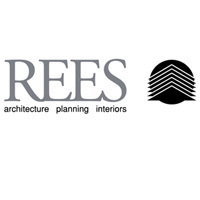 Oklahoma City, OK (PRWEB) April 8, 2009
Continuing its ongoing commitment to leadership in sustainable design, Rees Associates, Inc. (REES™), an internationally recognized architecture, planning, and interior design firm, is proud to announce that 100% of its officers are now LEED Accredited Professionals (LEED AP).
Leadership in Energy and Environmental Design (LEED) is a program established by the United States Green Building Council to encourage and recognize sustainability in the design and construction industry. The LEED AP designation is bestowed upon individuals in the industry who have demonstrated a mastery of sustainable design principles, methods, and implementation.
REES has employed sustainable design strategies since the firm was founded thirty-four years ago in Oklahoma City. Now an international firm with six offices in the Western Hemisphere, REES' commitment to "green" design was underscored by a challenge issued from President and CEO Dr. Frank Rees in 2008 to the firm's Vice Presidents.
Meeting that challenge, all Vice Presidents and the President of REES are now LEED Accredited. These officers include: Frank W. Rees, Jr., C. Leroy James, Ken Baker, Ralph Blackman, Jan Blackmon, Beverly Brandon, Melanie Compton, Rob W. Genter, Jerome W. Hovorka, Farooq Karim, Stephen Lawson, Kyle Lombardo, Ronald J. Luman, Kathy Potts, Jay Tullis, and William H. Yost.
"Beginning with a television station REES designed for Gene Autry that heated itself at 5 degrees Fahrenheit in 1980 with waste heat off the transmitter, our firm has been committed to green and sustainable design. I am very proud that REES is the only major architecture firm in the U.S. where all Vice President's as well as the Chief Executive Officer are LEED Accredited," said Dr. Frank Rees, AIA, LEED AP, President and Chief Executive Officer of REES.
For more information on LEED or REES' sustainable design efforts, visit http://www.usgbc.org and http://www.rees.com.
###