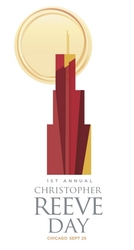 Our Chicago Chapter relies so much on the generosity and support of members of our community to support the Reeve Foundation's critical dual mission of care and cure. Through these valuable partnerships and local assistance, our voice--a voice that speaks on behalf of the paralyzed community--can finally be heard
Chicago, IL (PRWEB) September 23, 2009
Christopher Reeve Day (9/25) has been officially recognized by the City of Chicago. In honor of this day, The Chicago Chapter of the Christopher & Dana Reeve Foundation is excited to announce the following local celebrations.
Christopher Reeve Day Celebration (09/25/09)
Beginning with Christopher Reeve's birthday celebration on September 25, the Chicago Chapter invites the city to join them in commemorating and celebrating from 6-9PM on the rooftop of theWit, a Doubletree Hotel, located at 201 N. State Street. Downtown Chicago's newest boutique hotel--located in the heart of the revitalized theater and Loop business districts--will offer a cash bar and phenomenal city views for all who wish to attend.
Attendees to theWit rooftop event will also enjoy a festive creation from Sweet Mandy B's Bakery (1208 W. Webster Avenue). From homemade cakes, to fruit pies, cookies and even cheesecake, Sweet Mandy B's is a Chicago institution known for their decadent dessert specialties. In addition, we'll have coupons for a free drink from Chicago-based Argo Tea and gift certificates from the ever-popular West Loop eatery, Branch 27. Visit Reeve Foundation's event website at http://www.christopherreeve.org/reevedaychicago to learn more about this year's celebration.
Care.Cure.Comedy. Chicago Signature Event (10/15/09)
The celebration festivities continue well into the fall at the House of Blues© with the Care. Cure. Comedy. event from 6-9PM on Thursday, October 15, where we're swapping belly laughs for a chance at finding a cure for paralysis. Actress and stand-up comedian Caroline Rhea and noted radio personality Costaki Economopoulous are providing this year's entertainment. Chicago local, and WLS-TV Weekend News Anchor/Field Reporter, Ravi Baichwal will be hosting the event. More information and a link to purchase tickets can be found at http://www.christopherreeve.org/comedychicago.
"Our Chicago Chapter relies so much on the generosity and support of members of our community to support the Reeve Foundation's critical dual mission of care and cure. Through these valuable partnerships and local assistance, our voice--a voice that speaks on behalf of the paralyzed community--can finally be heard," said Kelly Heneghan, Co-Chair from the Chicago Chapter.
For more information, please contact:
Kelly Heneghan
Co-Chair, Chicago Chapter
8434 Corcoran Road, Willow Springs, IL 60480
Phone: (708) 878-3736
Email: Chicago(at)ChristopherReeve.org
About the Christopher & Dana Reeve Foundation:
Since 1982, the Christopher & Dana Reeve Foundation has been dedicated to curing spinal cord injury by funding innovative research, and improving the quality of life for people living with paralysis through grants, information and advocacy. Learn more about Reeve Foundation's national and local chapter efforts at http://www.christopherreeve.org today.
###