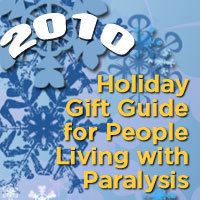 This year's gift guide is unique because it not only shows pictures, gives descriptions and prices, and where to find the gift, but it offers demonstration videos for many of the products, too
Short Hills, NJ (Vocus) November 23, 2010
The Christopher & Dana Reeve Foundation has released its holiday gift guide compilation for individuals of all ages living with paralysis.
The guide, available at ChristopherReeve.org/gift is the third of its kind from the Reeve Foundation, but is the biggest one yet with over 60 items separated into eight categories: Wheelchair Extras, Odds & Ends, Splurge, Tools & Technology, Hobbies, Just Because, For Kids, and Fashion. All of the products included in the gift guide were selected because of their ease of use and a fun factor with prices varying for every gift-giver's budget.
"This year's gift guide is unique because it not only shows pictures, gives descriptions and prices, and where to find the gift, but it offers demonstration videos for many of the products, too", says Rob Gerth, Director of Digital Media for the Reeve Foundation. "The videos will be very helpful for the gift-giver when trying to choose to the right present to give this holiday season."
The list was compiled over the last six months with suggestions from our online community members and by combing the Internet for intriguing ideas that are useful and fun. A few examples:
-- RehaDesign Wheelchair Slippers are made to fit the wheels of most standard manual wheelchairs. The artificial suede finish protective covers won't make any unnecessary mess.
-- Versa Gloves for Women attach to the cuff, and are also available with TouchTech, allowing women to use touch screen devices without removing their gloves.
-- Enabling Devices Guitar Hero Controller comes with a tabletop controller that includes five colored buttons complementary to the musical notes on the screen.
-- Adaptive Designs Receive-All Arm Brace straps onto the forearm and attaches the adapter to the product that needs to be held. This product is handy for various daily and recreational activities.
-- Transforming Disability DVD by Mind Body Solutions will help individuals understand the connection between the mind and the body, by examining how a better quality of life can improve the experience of a physically disabled individual. The package includes a 13-minute motivational video, three audio imagery exercises, and a booklet with five exercises for mind and body practice.
Some of the products are also gifts that give back with portions of the proceeds from sales donated to the Reeve Foundation.
If you know someone living with paralysis, the Reeve Foundation's 2010 Holiday Gift Guide for People Living with Paralysis has solved your shopping problems! Or if you are living with paralysis; be sure to show the guide to your family and friends!
Please note the Reeve Foundation has not endorsed or tested these products.
About the Reeve Foundation
The Christopher & Dana Reeve Foundation is dedicated to curing spinal cord injury by funding innovative research, and improving the quality of life for people living with paralysis through grants, information and advocacy. For more information please visit our website at ChristopherReeve.org or call 800-225-0292.
###