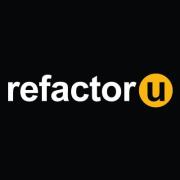 RefactorU's approach greatly improves a student's ability to obtain work as a professional developer in a short period of time, at reduced cost relative to alternatives.
Boulder, Colorado (PRWEB) May 29, 2013
In today's technology-driven society, skills such as developing better web applications are critical to success. Millions of people are trying to learn to code, but with mixed results. Traditional multi-year models of education are often cost-prohibitive. Some try to teach themselves, relying on online courses, but very few are successful with that approach. The solution, RefactorU, http://refactoru.com, is Boulder, Colorado's first bootcamp-style learning experience focused on the most relevant twenty-first-century technology skills, including web application development, data science, and related emerging technologies.
RefactorU is the brainchild of Sean Daken, the Founder and CEO of RefactorU. Sean Daken is also the CEO of Kula Causes, Inc., the world's largest online charitable giving platform. Applying the bootcamp model to modern technical training, the full-immersion technique involves learning to code forty to fifty hours per week for several months, working on real-world projects, and interacting with world-class instructors and peers. By directly applying new concepts and building on them, then revisiting those concepts frequently over days and weeks, RefactorU students quickly gain competence and a high degree of certainty in their ability to develop professional-grade, scalable web applications.
"RefactorU's model has distinct advantages for highly-motivated career switchers, as well as students seeking alternatives to traditional cost-prohibitive, multi-year educational paths. RefactorU's approach greatly improves a student's ability to obtain work as a professional developer in a short period of time, at reduced cost relative to alternatives. Hiring firms benefit by having a consistent pool of talented new employees who have been rigorously trained in the latest frameworks and development methodologies. As a hiring manager, finding and retaining qualified entry-level developers is a challenge that I understand well," says Founder Sean Daken.
Many students are attracted to RefactorU not only because it significantly increases their chances of being hired, but also because they want to apply the skills they acquire at RefactorU to their own entrepreneurial endeavors. RefactorU plans to support those endeavors in a variety of ways, including mentoring and coaching relationships, helping to develop minimum viable products, and ultimately raising capital.
Daken commented, "We're building a community around this, and we're encouraging participation from people that remain under-represented in technology and entrepreneurship. For example, we offer discounts to women, students, and members of the military and their spouses. In the future, we intended to create programs that address the unique challenges those groups face with respect to breaking into technology and entrepreneurship."
RefactorU was present at the Boulder Creek Festival in Boulder, Colorado over Memorial Day weekend. Visitors had the opportunity to meet Sean Daken to discuss his vision for the future of this kind of technical training, and learn more about what RefactorU offers. RefactorU's first ten-week session will run from September 9th to November 15th. The class size is limited, and the deadline to apply for the fall session is June 9th.
For more information, go to http://refactoru.com, send email to info(at)refactoru(dot)com, or call 720-441-CODE (2633).
About RefactorU:
Founded in 2013 and based in Boulder, Colorado, RefactorU is the premier immersive learning experience for 21st century technology skills. RefactorU empowers individuals to reinvent themselves to meet the needs of today's technology-driven economy while building lifelong professional networks for the future. RefactorU enables hiring managers to significantly improve bench strength while increasing employee retention and reducing risk. Visit us at http://refactoru.com.