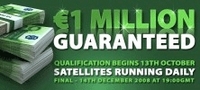 UK, England (PRWEB) October 13, 2008
Last month CelebPoker Player "N Lee" showed great initiative by referring a number of family and friends to CelebPoker.com- and he collected a whopping €6500 profit for his troubles!
CelebPoker.com Launches Biggest Refer-A-Friend bonus on any Poker Room!
CelebPoker.com, Europe's fastest growing Poker Room has recently launched the biggest Refer-A-Friend bonus scheme deal on any internet poker-room. As a reward to loyal players, CelebPoker are offering players a chance to make up to €500 for each player they refer to the Celebpoker poker-room. This makes the perfect way to boost a bankroll without playing a single hand of poker!
CelebPoker are offing all players the same chance to refer an Unlimited number of people to their poker site, with up to €500 bonus per player referred to the site. The bonus can be shared with the player, or the referring player can keep the lot!
How CelebPoker.com Refer A Friend Works
Simply refer a friend to CelebPoker via the Refer-A-Friend form on the CelebPoker.com web-site. Once the referred player starts playing on the poker site (and contributing rake), the referrer will be entitled to a substantial referral bonus. The more your friends rake, the more you can earn (up to a whopping €500 per player!).
The amount of money a referrer willl receive will be based on how much your friends rake during their first 30 days playing at CelebPoker.
The CelebPoker Referral Bonus payment structure is as follows:
€100 if your friend rakes €300
€275 if your friend rakes €825
€500 if your friend rakes €1,500
Simply refer 3 players who rake €1,500 each in the thirty day period and you will get a bonus of €1,500! More players = more profit for you (remember, the profit can be split with the players - another incentiveb for the referred players to rake and play a lot!). Can you beat N. Lee who earned €6500 in one month from referring friends/family?
Referring Players is easy! If you play poker in bricks and mortar casinos or perhaps at a home-game, simply tell the other players about the deal, jot down your co-players' email addresses and later on, fill out the referral form on the CelebPoker Web-Site. Similarly if you are a member of an online poker community or forum, you can let people know about the deal and refer them to benefit both parties substantially... The perfect stocking filler, just in time for Christmas!
Other CelebPoker.com News below.
Exclusive Freeroll (free to enter) tournaments with real cash prizes for new players - No Deposit Required... A Great way to build a bankroll for zero outlay! CelebPoker are running freerolls every hour from 11am to 11pm as well as daily €100-€250 freerolls.
Free-play poker tables to allow you to home your skills without losing a cent before you dominate the real money tables!
Hundreds of cash and tournament tables with thousands of Players running 24 hours a day, 7 days a week.
Over 4 Million Euros in Guaranteed tournaments every month! CelebPoker are running €100K Guaranteed, €250K Guaranteed Tournaments every Sunday, as well as an upcoming €1,000,000 Guaranteed Tournament!
Exclusive Members only promotions!
Fun, Simple and Secure Industry leading software, and excellent 24/7 support staff, should you need them.
Biggest and best games including No Limit Texas Hold'em, Limit Hold'em, Omaha and more.
Satellites to big buy-in games - win seats in big events by playing small buy-in events.
€50,000 Rake Race
Win big just for playing the game you love. The CelebPoker Rake-race offers high-volume players an extra incentive to play - win up to €10,000 in the CelebPoker Rake-race running 10th-16th November.
Free Poker League Join the biggest poker league on the International Poker Network. Every CelebPoker player is automatically a Poker League Member. 1st place in the monthly league pays a massive €1450!
Remember this is the Biggest Refer-A-Friend Offer you will find on any poker room on the internet. Once again, CelebPoker delivers the biggest rewards to their loyal players.
Refer a friend To CelebPoker Today
###