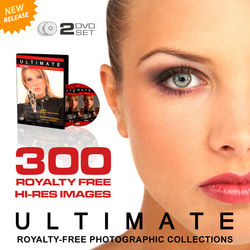 Adelaide, South Australia (PRWEB) September 4, 2007
Ballistic Publishing has released the first of its new ULTIMATE, 16-megapixel, royalty-free photographic collections to meet the growing demand for ultra-high-quality image assets for game and film creators. Developed in conjunction with the renowned human reference resource 3D.SK, the dual-DVD sets are packed full of the highest quality photographic reference available. The DVDs are suitable for film and game development, life drawing, texture reference, or any other pursuit that requires images of the highest quality. The series will include location, texture, and human reference photographs. All shots are provided in high-resolution TIFF and RAW formats offering artists a comprehensive set of ultra-high-quality assets.
The ULTIMATE DVD photographic sets are ideal for digital artists who are creating high-resolution texture maps and matte paintings for film or next-gen game productions. The series will offer multi-gigabyte collections not available online from 3D.sk with the convenience of DVD delivery.
The partnership between Ballistic Publishing and 3D.SK adds a unique line of digital assets complementing the high-quality products already offered by Ballistic Publishing and 3D.SK. Mark Snoswell, President of the CGSociety said: "We are thrilled to be working with 3D.SK to extend the reach and quality of its photographic textures available online. It is very expensive and difficult to create the high-resolution textures today's film and next-gen games demand. The ULTIMATE series brings the very best professional photography to all discerning digital artists at an unbeatable price. Future titles in the ULTIMATE series will include talent, interior and exterior HDR (High Dynamic Range) environment sets".
The first title in the ULTIMATE series features model Klara Medkova by acclaimed photographer Peter Levius. The set features clothed, and semi-clothed photographs in both reference and action poses captured under optimal studio conditions with the best professional equipment available. The best of the shots were selected and are provided in both lossless TIFF and RAW formats forming a comprehensive reference and asset resource. The ultra-high-detail of the shots offer the best in eye, face, hand and texture detail with modeling reference which can all be used freely for any personal or commercial projects. The 300 images on dual-DVD are categorized by keyword, tagged and searchable by an easy-to-use browser interface.
Details
Dual-DVD set
300 high-resolution photos (clad and semi-clad in hundreds of poses)
Royalty-free
Exceptional 16-megapixel resolution
RAW and TIFF versions of every image
Easy-to-use navigation
Indexed with keyword search and simple browser interface
Pricing and Availability
The ULTIMATE Klara Medkova dual-DVD set is available via Ballistic Publishing for just $65.00 (USD). Free shipping is available to CGSociety members.
About CGSociety and Ballistic Media
Ballistic Media operates two major divisions, The CGSociety and Ballistic Publishing. The CGSociety is the world's largest society of professional digital artists and provider of forums, portfolios, training, jobs and event services for the digital arts industry. Ballistic Publishing is the leading, award-winning, independent publisher of books for the digital arts industry. Dedicated to publications of the highest quality celebrating the talents of digital artists worldwide, Ballistic has set the benchmark as a quality boutique publisher. Ballistic Media is based in the Adelaide Hills of South Australia, with offices in Melbourne (Victoria, Australia) and Tampa (Florida, USA).
About 3D.SK
3D.sk is the world's leading provider of royalty-free reference photographs. The range, number, and quality of human reference photographs 3D.SK sell is unsurpassed. This unique resource is invaluable for creation of digital assets for film, broadcast and game production.
Digital files can be downloaded from our press page.
Contact
Andrew Plumer,
CEO, Ballistic Media
Phone: +61-8-3885966
Email: andrew @ ballisticmedia.net
Web: http://www.CGSociety.org
###