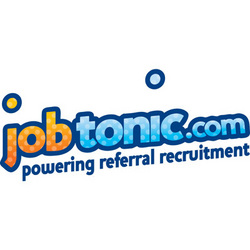 Jobtonic.com offers an extremely effective method of promoting jobs to a unique audience of job seekers that cannot be accessed using traditional job web sites and other forms of advertising. It is this innovative approach that attracted me to the position of Managing Director and I can see tremendous opportunity to capture an even bigger share of the online job market
Edinburgh, UK (PRWEB) September 7, 2007
Jobtonic has taken on new talent and rewarded those who have helped it become the UK's foremost referral recruitment web site. Dave Young, a veteran of online recruitment, having sold his first venture in the area to Monster in 2000, joins as Managing Director. Meanwhile, Nick Goldstein has been promoted to Sales and Marketing Director, broadening his role on the back of his success building the business from the ground up.
As part of an ongoing growth strategy, the company has also taken on a number of account managers to work with the growing list of recruiters and agencies that Jobtonic lists amongst its clients.
Jobtonic remains dedicated to growing its portfolio of referral recruitment based solutions in the UK, both through its own online presence and in partnership with job boards and business. By integrating Jobtonic's referral recruitment technology, job boards benefit from a new selling angle in an increasingly competitive online market. Jobtonic will also expand its range of business solutions over coming months.
Commenting on his appointment, Dave Young, MD Jobtonic said "Jobtonic.com offers an extremely effective method of promoting jobs to a unique audience of job seekers that cannot be accessed using traditional job web sites and other forms of advertising. It is this innovative approach that attracted me to the position of Managing Director and I can see tremendous opportunity to capture an even bigger share of the online job market"
About Jobtonic.com
The Jobtonic process:

Jobtonic allows forward-looking employers to directly target passive candidates, considered the holy grail of recruitment.
###