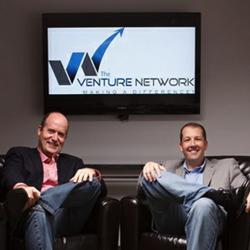 We want to make it as easy as possible for busy professionals to be successful in their goal of being a published author.

-Michael D Butler, Co-Founder of The Venture Network
Tulsa, OK (PRWEB) May 15, 2012
There are few things that add credibility, especially for business owners and trusted industry authorities, like becoming a published author. Many business owners aspire to be a published author, but unfortunately many simply don't have the time to commit to writing and publishing, and marketing a book. However, for those who do, it is a rewarding experience that adds celebrity and credibility to themselves and their business!
History has shown that writing a book is an excellent way to be seen as a trusted authority in any industry. However, when business is thriving, it's not always sensible for many business owners to find the time to write a book, edit it, publish it, and then market it.
That's why The Venture Network, founded by Serial Entrepreneurs Michael D. Butler and Nathan R Mitchell, is now providing business and networking professionals a simple solution to writing and publishing.
"It is with great enthusiasm that Michael and I are sharing our first ever co-authorship opportunity. 'Networking 3.0: Leveraging Your Business in the New Economy' is specifically designed to help business owners who desire increased exposure in their industry the opportunity to establish themself as a trusted authority while helping them increase revenue through referral and social media networking, and online book marketing," says Co-Founder and Business Consultant Nathan R Mitchell (MBA, CPC).
"We want to make it as easy as possible for busy professionals to be successful in their goal of being a published author," adds Butler. "Writing a book, and getting it published, takes a lot of time and resources, and is a huge undertaking. But, with that being said, there is not a better alternative than a book when it comes to showing expertise, experience, and credibility than a published work."
It should be noted that not everyone will be considered to be a co-author of "Networking 3.0: Leveraging Your Business in the New Economy."
"This is a highly competitive opportunity and is by application only," states Butler.
"We will be limiting this co-authorship opportunity to the top 15 to 20 applicants who understand the importance of investing in themselves, and to those whom we choose to partner and do business with. At the end of the day, we have a solid reputation to uphold in the referral networking industry!"
For those interested in learning more, or how they may be considered for participation in this limited opportunity, they should inquire by reaching out to Michael D. Butler and Nathan R Mitchell at http://www.TheVentureNetwork.org.
###