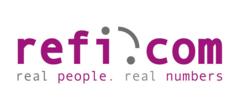 "We want our company to drive a revolution in the way internet mortgage companies do business" -Raymond Duquette
Providence, RI (PRWEB) April 30, 2011
Semper Home Loans, an Inc. 5000 company, recently announced the purchase of the domain Refi.com for an undisclosed sum as part of an ongoing strategy to pursue web-based interaction, automate standard procedures within the mortgage process, and reduce fees to the borrower.
The Refi.com website will be a customer-focused site, where potential homebuyers can learn more about mortgages, real estate market trends, new legislation affecting real estate finance, and web-based mortgaging, according to a spokesperson at Semper. Integrated social media, including Twitter, blogs, forum discussions, and Facebook, will be a larger part of Semper Home Loans' outreach to younger, more tech-savvy borrowers. In order to provide these services as effectively and efficiently as possible, Semper has retained Konnessi (Konnessi.com) also based in Providence. Konnessi, in addition to assisting with the sale of the domain, will be providing ongoing web development and web marketing services.
"We want our company to drive a revolution in the way internet mortgage companies do business," says Raymond Duquette, the company's chief strategist. "We already know the way we interact with our clients is not the norm—it's about engaging people, giving them the information and the understanding they need to get the loan that best fits each person's lifestyle and needs. At the end of the day, Semper Home Loans and Refi.com are about giving people the opportunity to get the best deal possible. We want to be to the mortgage industry what Amazon.com was for bookbuyers."
Web-based mortgages through Semper Home Loans and Refi.com will reportedly also feature live pricing, fixed fees, and "Client Architects" to help loan seekers understand and obtain a mortgage.
Semper Home Loans (semperhomeloans.com) is based in Providence, Rhode Island. Stay tuned for more news about Semper's expansion across the pond via their refi.co.uk domain.
# # #