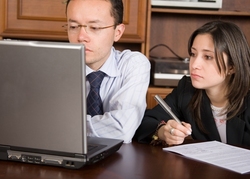 The worst case is when a loan officer will change the terms at the eleventh hour, when the consumer is desperate to get the money
Irvine, CA (PRWEB) August 7, 2007
People have heard the horror stories when it comes to borrowing to pay the bills. It usually starts with someone desperate to refinance a home loan to payoff credit cards or other debts with a lower real estate loan payment. Problem is, that new loan may not be any better…in fact, it could be worse according to experts at The Lending Group in Irvine, Calfornia.
Shavyl Hassim, President/CEO of The Lending Group should know. In his 20+ years as a residential lending Consultant and Financial Advisor he has seen it all. "The worst case is when a loan officer will change the terms at the eleventh hour, when the consumer is desperate to get the money," says Hassim. "That can cost dearly."
It starts when people decide to borrow against their home. The smart way to look at borrowing is as an investment, not as a money machine that allows you to spend more. "In the end, borrowers who want to spend will loose their loan value," add Hassim, "but borrowing to make an investment will make the loan worthwhile." Investments include such things as improving the value of your home through upgrades, or investing in your education, or a new business.
What baffles experts such as Hassim is the fact that so many borrowers can be casual about who loans them the money. "While consumers often carefully look over financial advisors for investments that can be a relatively small amount of money, they can often trust a total stranger when it comes to borrowing on the biggest investment they have…their home." His solution: "Look for loan officers trained by qualified financial advisors". Making the wrong refinance choice is the biggest investment mistake most people make.
Robert Bolo, a Financial Advisor and founder of the Equity Think Tank is even more direct, "home equity offers the lowest interest rate in the market, provided you invest it wisely. If you make a mistake, it can be an expensive one."
"Often all the consumer wants is a lower rate," adds Hassim, "but they do not see things that play out in the long run. It's a little like getting medical advice from a pharmacist, he may be able to give you a pill that helps today, but a doctor can come up with a plan that gets you back to health permanently."
Those so-called "low interest loans" can eat you up with extra fees and penalties. And if it is an interest only loan, the principle will never go away.
Spotting a residential lending professional who has your interest in mind is tough, but there are some warning signs. Is he acting like a pushy salesman or is he taking time to get to know you and more importantly your needs? Loans come in almost infinite variety these days, so make sure he offers you some options. In that way you will have the final say on what is best for you
Remember, you are boss. Don't be afraid to walk away from a situation that is not going your way.
What is the best kind of mortgage loan? Look for a 5 to 10 year with a fixed interest rate. Your payment will stay steady no matter what happens to the economy and in time the loan will be paid off.
For more tips on the right way to refinance go to web site at http://www.TheLendGroup.com .
For more information: contact Shavyl Hassim at The Lending Group, 17815 Sky Park Circle, Suite H, Irvine, CA 92614; or call 877-777-8074; or visit the web site at http://www.TheLendGroup.com
###