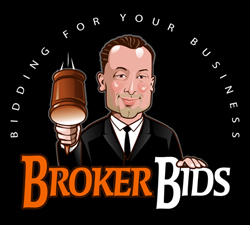 One application, one credit inquiry, and zero phone calls for all of your mortgage needs - Faye Navab
Germantown, MD (PRWEB) December 2, 2009
Homeowners looking to refinance their mortgage or to obtain a new mortgage now have a revolutionary new online resource in BrokerBids.com (http://www.brokerbids.com). The site is designed to help connect consumers with mortgage professionals that offer them the best rate and terms without the hassle of high volume phone calls through out the process. Instead of going through the traditional process of answering the same application questions for each financial institution, and having repeated inquiries made to their credit report, while receiving numerous unwanted phone calls to gain their business, BrokerBids users have access to a simplified mortgage shopping process with just one application, zero phone calls, and only one credit inquiry.
Traditionally, mortgage shoppers go from bank to bank and complete an application to receive their offers, or request information through an online website and have numerous lenders call them to take the application. Mortgage shoppers would have to complete a new application each time they applied, answering the same questions, and be inundated with phone calls from lenders to gain their business. More importantly, consumers had to give out their social security number to each institution in order to check their credit, adding to their list of inquiries, increasing the risk of identify theft, and potentially lowering their overall credit score.
The biggest hassles with this traditional method of mortgage shopping are that once consumers had completed their search for that perfect mortgage, odds are that they would still receive phone calls, emails, and junk mailers long after their needs had been met, and not to mention dealing with dishonest lenders that would quote one rate, and give another at the closing table.
BrokerBids has a better business model for helping consumers find the best mortgages. Consumers simply complete the "Mortgage Bids" application online and have only one inquiry made to their credit. The necessary details such as credit score range, balances, payment history, are provided in a summary to BrokerBids brokers and lenders, which review the information provided, and respond with their best offer to consumers. Private messages may be exchanged to clarify any questions or details, and from the offers received the consumer may select a winning bid if they choose to move forward.
The consumer's name, social security number, address are not disclosed. Each offer they receive includes its own good faith estimate, which they can view online or print out and review. Consumers also get to view the broker's feedback rating which allows them to see past consumer experiences. All offers are blind, meaning that the brokers and lenders cannot view each other's bids, only the consumer may view all. Once their mortgage needs have been met they may leave a feedback rating of their own, based on their experience, for their broker. This helps to ensure consumers' get what they were initially promised.
For more information regarding the Mortgage Bids program please visit http://www.brokerbids.com, or call toll free 800-259-BIDS.
Contact:
Faye Navab
The Brokers Network, LLC
11207 Dunstable Way
Germantown, MD 20876
Toll Free: 800-259-BIDS
Direct: 703-495-4890
http://www.brokerbids.com
###