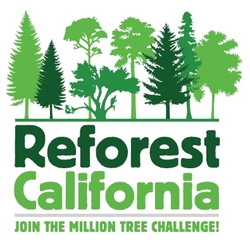 Join the Million Tree Challenge
San Bernardino, CA (PRWEB) April 7, 2009
Stater Bros. Supermarkets, Coca-Cola, and California State Parks today announced 'Reforest California,' a campaign to raise much-needed funds for reforestation and fire prevention in California State Parks hit hard by wildfires over the past six years. Cuyamaca Rancho State Park near San Diego and Chino Hills State Park in San Bernardino County, two areas heavily impacted by the wildfires, will be the primary recipients of the campaign's goal to add one million native trees.
With the slogan "Join the Million Tree Challenge," the campaign challenges consumers and private businesses to participate and raise money towards the goal of creating 1,800 acres of newly planted trees - an area more than twice the size of Lake Arrowhead. It is estimated that this could result in seven million dollars in environmental savings each year due to energy conservation and reduced pollution. To supplement the campaign's reforestation efforts, a fire prevention education program will be implemented in five State parks: Cuyamaca Rancho, Chino Hills, Silverwood Lake, Mount San Jacinto and Palomar Mountain State Parks.
To support their local communities, shoppers at Stater Bros. Supermarkets will have the opportunity to make a one-dollar tax-deductible donation to reforestation efforts at checkout or online at http://www.reforestcalifornia.com/ .
Stater Bros. Chairman and Chief Executive Officer Jack H. Brown, who is a former member of the Del Rosa Hot Shots, an elite firefighting crew, says, "Helping the communities we are privileged to serve is a priority for the over 19,000 members of the Stater Bros. 'Family' of Employees. Our 'Valued' Customers as well as many Stater Bros. employees were and continue to be affected by the recent wildfires in Southern California. Stater Bros. is proud to support the Million Tree Challenge to build a better tomorrow for all."
With today's economic downturn and state budget challenges, public entities in the Golden State increasingly will look to private resources for support.
"In light of the devastating losses California's State parks have suffered in recent years from forest fires, this program is most welcome," said Ruth Coleman, director of California State Parks. "Coca-Cola and Stater Bros. are handing us a crucial life-line at just the right time, and on behalf of the millions of visitors who love our parklands, we applaud this effort."
"The Coca-Cola Bottling Company of Southern California is pleased to have the opportunity to support this sustainable project, something that has such a long-lasting, positive impact on the local community," said Terence Fitch, Vice President and General Manager of the Coca-Cola Bottling Company of Southern California. "As the local Coca-Cola bottler, we have a long tradition of being involved in the communities in which we do business and feel a strong responsibility to our people and business partners to help make our communities better places to live. Being able to fund a public-interest project like this, despite state budget shortfalls and the current economic downturn, means a lot to our local communities."
The 'Reforest California' campaign in Stater Bros. Supermarkets will run from April 8 through May 19, 2009.
About the Coca-Cola Bottling Company of Southern California
The Coca-Cola Bottling Company of Southern California has produced, marketed and distributed Coca-Cola products for over 100 years. The local, franchised bottling company and its some 4,800 employees have a long tradition of being involved in the communities in which they do business. The Coca-Cola Bottling Company of Southern California is a division of Coca-Cola Enterprises Inc., the world's largest marketer, distributor, and producer of bottle and can liquid nonalcoholic refreshment. CCE sells approximately 80 percent of The Coca-Cola Company's bottle and can volume in North America and is the sole licensed bottler for products of The Coca-Cola Company in Belgium, continental France, Great Britain, Luxembourg, Monaco, and the Netherlands. For more information about our company, please visit our website at http://www.cokecce.com .
About Stater Bros. Market
Stater Bros. was founded in 1936 in Yucaipa, California, and has grown steadily through the years to become the largest privately owned Supermarket Chain in Southern California and the largest private employer in both San Bernardino County and Riverside County, with annual sales in 2008 of $3.74 billion. Last year, Stater Bros. contributed over $15 million in support of nonprofit organizations in the communities it serves, with an emphasis on worthy programs that benefit hunger relief, health and nutrition, and education. The Company currently operates 166 Supermarkets, and there are over 19,000 members of the Stater Bros. "Family" of Employees.
About California State Parks
California State Parks is composed of 279 units on nearly 1.5 million acres of land. State Parks is responsible for nearly one-third of the coastline of California, with more than 3,000 miles of hiking, biking and equestrian trails. The State Park System contains 98 percent of the state's wilderness and 60 percent of its old growth coastal redwoods. Within the system, there are 50 State Historic Parks that encompass some of the state's most valuable historic and cultural resources. State Parks receives more than 75 million visitors yearly, making it the single largest visitor destination in the state and second only to the National Park system for the nation.
About GSG
Government Solutions Group is a unique marketing company that facilitates public-private partnerships for government agencies to help them reduce costs, increase revenue, and improve consumer relations through private partnerships. GSG works with 11 state park systems across the nation by creating and managing win-win partnerships with corporations that benefit the park systems. GSG is proud to work with Stater Bros. Supermarkets, the Coca-Cola Bottling Company of Southern California, and the California State Parks on the 'Reforest California' campaign. The company is based in Pasadena, California.
Contact:
Meg Aldrich
Meg Aldrich Public Relations
(626) 825-0309
###