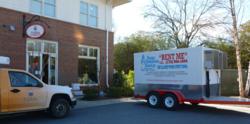 Our refrigerated event trailers allow us to provide cold storage to a larger demographic. We are now able to service the needs of customers on a shorter rental term basis
Rick Nuckols, Owner
Atlanta, GA. (PRWEB) May 04, 2012
In addition to refrigerated containers and refrigerated trailers, Portable Refrigeration Storage, Inc. recently introduced their portable refrigerated event trailer. They are available for rent throughout the Metro Atlanta area. Since adding the smaller more portable event trailers, PRS is able to service customers and events like florists, catering companies, restaurants, golf tournaments, festivals, weddings, ice vendors and many more.
"Our refrigerated event trailers allow us to provide cold storage to a larger demographic. We are now able to service the needs of customers on a shorter rental term basis. We feel these units will afford our customers a quality product at a very competitive price", says owner Rick Nuckols.
The event trailers fit in a standard parking space and plug into any standard wall outlet. Unlike the larger refrigerated containers and trailers, the event trailers do not require any special electrical hook up. The event trailers come standard with a diamond plate floor on the interior and a 50 ft power cord. They have lockable double doors on one end as well as an interior light for extra visibility.
PRS offers their event trailers on a short term or long term rental basis throughout Metro Atlanta.
For more information, please visit, http://www.PortableRefrigerationStorage.com