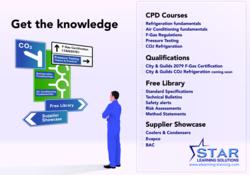 eLearning is for businesses an efficient tool to train employees. It standardise knowledge throughout the company, significantly condenses the time engineers spend studying, and reduces travelling and accommodation costs significantly.
London, UK (PRWEB) January 24, 2012
elearning-training.com was a pioneer in the introduction of eLearning to the Refrigeration and Air Conditioning industry. It is a revolutionary project with the aim of offering CPD and theoretical underpinning knowledge to the HVACR industry world-wide.
elearning is an efficient tool for businesses to train employees. It can standardise knowledge throughout the whole company, across different locations and even countries, significantly condensing the time engineers spend studying, whilst reducing travelling and accommodation fees as the training can be carried out from anywhere at anytime.
According to John Fraser, MD of Operations at Star Refrigeration " elearning adapts the learning to the student's needs and takes away the pressure of studying". The learning content displayed on the elearning-training.com website is managed by a LMS that assigns courses to users and offers corporations employee reports on course interaction including automatic generation of Diplomas on successful course completion.
Individuals may access the eLearning courses from the comfort of their homes, whenever fits them best and without the price tag. It allows them to obtain accredited continuing professional development (CPD) credits that can be submitted to their Institutions/ boards for membership registration or to upgrade or even to maintain their working licence as required by most US states. Users can access any type of material within the website at any time and from anywhere and add any files of interest to his/her "My e-Learning Zone" where all the personal study material, marks and diplomas are securely saved.
elearning has been used for many disciplines for many years. Some subjects lend themselves better than others to be taught through elearning but generally e-learning solves a key and very current issue as it plays a fundamental role in promoting digital literacy and computer skills.
e-learning also plays a decisive role in increasing access to "lifelong learning," giving engineers a chance to undertake continuing professional development. Scheduling classes, work commitments, high fees or travel concerns are all eliminated through the use of elearning.
The use of the Internet allows savings in costs and mobility with access to lessons and to all other training resources available 24/7, leaving the learner to manage his own training time and availability.
The technical skills required to undertake the courses vary depending on course level. The courses range from basic elementary knowledge to more advanced subjects such as the F-gas European Regulations and CO2 Refrigeration.
The interactive courses cover different topics; The refrigeration course includes modules in Thermodynamics, the Vapour Compression Cycle, Gas properties and Laws and Pressure and Pressure Measurement. Also available are the air conditioning course, the CO2 Refrigeration course, the F-gas Regulations Course and the recently launched Pressure Testing course.
About elearning-training.com -Star Learning Solutions
Star Learning Solutions (elearning-training.com) is the training division of the Star Group. The group operates in five global business sectors: refrigeration engineering –Star Refrigeration-, – StarFrost-, electrical engineering – Star M&E Solutions -, technical consultancy –Star Technical Solutions- and learning.
Founded in 1970 Star Refrigeration has worldwide recognition for its groundbreaking work in developing carbon dioxide-based industrial refrigeration systems. Star is renowned for pioneering natural refrigerant solutions in large-scale projects including the world's largest natural heat pump for district heating. The company offers design, manufacture, installation, commissioning and aftercare of cooling and heating solutions.
Starfrost provides industrial freezing and chilling solutions to the food and process industries across the world.
Star Technical Solutions offers independent support to users of cooling and heating around the world. STS provide services including preparation of specifications to tender, regulator and legislative support, policy and product development and expert witness.
Star M&E Solutions offers M&E services and electrical panels to a range of industries
Star Learning Solutions delivers a blended learning platform, providing both online training via elearning-training.com and practical training for the refrigeration, air conditioning, heat pump and BSE industries.
###