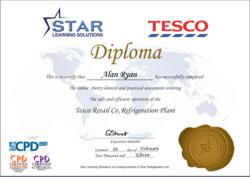 "some customers are interested in CPD certified online courses. Others are interested in partnering to deliver F-Gas and CO2 qualifications in their countries using elearning-training.com proven model
UK (PRWEB) September 30, 2011
The campaign commenced in March 2011 and offers free online Refrigeration courses and Air Conditioning courses to anyone with an interest in the industry. The global online Learning Platform elearning-training.com also provides free information on CO2 Refrigeration, F-Gas Regulations and Ammonia refrigeration systems via the Free Library. The aim was to increase awareness of elearning-training.com's unique virtual environment which allows students to up-skill and re-skill rapidly and regularly.
Star Learning Solutions (SLS), the training division of Star Refrigeration launched the industry award winning online Learning platform in 2005 offering CPD certified eLearning courses and providing a modern alternative to traditional methods of training. It delivers knowledge on demand by allowing students to access learning material at any time and from any place, simply by logging onto the http://www.elearning-training.com website with a user name and a password.
From this beginning SLS has steadily grown to offer a range of solutions including City & Guilds F-Gas assessments, CPD courses, bespoke course production and licensing to third-parties. Recently a "Library" containing a wealth of information from different sources has been added to the website and is available at no cost. It includes downloads on health & safety, technical specifications, method statements, risk assessments and more.
Phillip Prosser, Learning and Development manager of Trend Controls talks about the use of elearning-training.com courses and CPD within his organisation "We place great emphasis on training and CPD of our staff and the air conditioning & refrigeration fundamentals courses have proved extremely valuable for our apprentices to gain an understanding of the two subjects. We have also engaged with Star to provide courses for our existing engineers to increase their awareness of the subjects and this has proven invaluable CPD for them. I look forward to working with Star to develop further E Learning solutions to increase the knowledge of our engineers."
F-Gas & CO2 Refrigeration Qualifications
During the last three years elearning-training.com has been delivering F-Gas City & Guilds 2079 training and assessment for practising RAC engineers throughout the UK to become certified in anticipation of the 4th July 2011 deadline. A considerable investment in human and equipment resources is allowing SLS to deliver F-Gas assessment through 9 UK locations and 19 qualified assessors. Astrid Prado, Marketing Manager at Star Learning Solutions maintains that "F-Gas has confirmed the enormous untapped potential of the elearning methodology for the delivery of qualifications. The appeal is easy to understand; engineers are under less pressure by studying at their own pace and are then able to undertake the formal City & Guilds assessment at their local Star-branch, thereby minimising workplace downtime". Delivery of F Gas courses will continue after the 4th July.
At the moment, there are no qualifications for CO2 refrigeration and air conditioning available in the UK, however SLS have been working closely with the British Refrigeration Association and City & Guilds in the development of a new vocational qualification for CO2 Refrigeration. This is now in the final stages and it will be released later this year. The qualification will cover Installation & Commissioning and Service & Maintenance of CO2 systems and will be structured in a similar way to the F-Gas Assessment. The qualification can be taken by anyone who can demonstrate 5 years industry experience; holds an F Gas Cat 1 qualification; or already holds an NVQ 3 in standard refrigeration and air conditioning.
The new CO2 qualification will offer a definitive solution to the issues highlighted by The Environmental Investigation Agency in its recent report "Chilling Facts Results" which highlighted the need for standardisation of knowledge and fully-recognised accreditation for all engineers working with CO2 refrigeration systems, specifically commenting, "We do have some concerns about the lack of standardisation in this area. The problem with this is that it slows down the introduction of climate-friendly technologies. And, for engineers, it's a complete muddle as they are being forced to attend courses run by individual retailers even if they have relevant qualifications from another organisation".
International licensing
elearning-training.com is now collaborating with training centres and trade associations across Europe, licensing the proven online platform and content infrastructure in their territory. This exciting development involves the upgrade of content to incorporate local regulation/terminology as well as language translation.
Astrid Prado explains "customers are identifying their own needs and ask if we can deliver to their defined requirements. Some organisation are only interested in the CPD certified online courses with only minor modifications and translations while others are interested in harnessing this effective methodology to deliver certified qualifications, utilising the proven model of online learning and practical assessment (like the F-Gas) as well as support in the training rig design and "training of the trainer" .
Flexibility is a key attraction – overseas partners ask for different things and ideas in order to provide a relevant solution for their country. All will ask for language translation, but after that the infrastructure will be tailored to their exact requirements, for example, all or only some of the content, full access to the student Learning Management System (LMS), others may wish to use their own LMS, assistance with practical assessment methodology and in some cases, the design of new course content.
In a recent presentation at the recent AREA conference in Dundee, it was recognised that the growth of CO2 systems globally presents a new demand on ensuring appropriate engineering qualifications. According to Astrid Prado the consensus among participants of the meeting was that the good work being done in UK in respect of a new qualification for CO2 would provide a suitable platform for internationalisation, even to the extent of replicating the proven methodology of assessment and certification, similar to F-Gas.
Other facts:
Since its launch, elearning-training.com has come up with new ideas to improve students learning experience. The industry is suffering a major upskilling of the workforce due to recent changes in regulation and the introduction of environmentally friendly technologies. This is driving demand for readily available information and educational resources as well as new job opportunities. elearning-training.com's alternative training methodology will definitely play a greater role in addressing the industry's skills needs in the future as it allows contractors to qualify engineers in one day, minimise the time engineers are off work, and reduce travel and accommodation expenses".

More than 60,000 people a year visits elearning-training.com's website to update knowledge and skills. Industry practitioners, end users, consultants, facilities management companies, cooling and heating contractors, suppliers, colleges, universities and trade Institutes - All into one place
Over 12,000 members are enrolled in either CPD, F-gas or CO2 refrigeration training courses
The International Institute of Refrigeration and Star Learning Solutions continue to work together to support education in developing and developed countries via anytime/anywhere learning
New courses in Pressure testing and a City & Guilds CO2 qualification are comming soon to elearning-training.com.
"Training Portals" are available for organisations to own their own eLearning portals to aid training and product knowledge standardisation
Corporate customers can access student management reports in course interaction.
Continue to work with sponsors and partners such as EVAPCO, BAC and Coolers & Condensers
ACR Today, August 2011
###