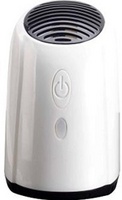 We are pleased to be able to offer consumers an affordable yet powerful new refrigerator air purifier under $40 that takes up very little space in the fridge
Austin, TX (Vocus) April 26, 2010
Oransi – http://www.oransi.com - a leading provider of new air quality and green home cleaning products, has launched an affordable new refrigerator air purifier that is low maintenance and costs only $1 per month to operate. The Oransi ionic air purifier for refrigerators features patented Piezo-electric technology that removes odors and bacteria to clean the refrigerator air thoroughly yet silently - and without the harmful side effects of ozone that normally is found in standard ionizers.
The Oransi ionic air purifier is healthier than other refrigerator air purifiers and has been third-party tested by the Industrial Research Technology Institute (ITI). The ITI testing results found Oransi's refrigerator air purifier to be 78% below the required FDA limits for ozone production.
In addition, Oransi's refrigerator air purifier saves money by:

Reducing food spoilage and waste. It not only removes odors from the refrigerator, it also removes the bacteria that cause odor and food decay - thereby keeping food and produce fresher for extended periods of time.
Using no filters – no expensive filters to replace.
Running on only two AA batteries for up to three months – the cost to operate is approximately $1 per month. A built-in micro processor controls the operation of the air purifier so it will cycle on and off to save battery life.
"We are pleased to be able to offer consumers an affordable yet powerful new refrigerator air purifier under $40 that takes up very little space in the fridge," said Oransi's CEO Peter Mann. "The Oransi refrigerator air purifier is extremely effective in controlling odors and reducing food spoilage, thereby allowing consumers to save more money."
Oransi's ionic air purifier for the refrigerator also provides the following benefits:
Easy to use – just turn it on and place in the refrigerator.
The small size is convenient - allowing it to fit in any size refrigerator.
Its neutral color and contemporary design is attractive.
Patented Piezo-electric technology allows for a high negative ion output to freshen the refrigerator without the harmful side effects of ozone that is found in standard ionizers.
It has received safety certifications from GS and CE as well as the RoHS lead free directive.
Made of durable fire-resistant ABS materials.
The Oransi ionic fridge air purifier is $39 and available online from Oransi at http://www.oransi.com/ionic_air_purifiers_s/6.htm
About Oransi
Founded in 2009 by a team of executives and engineers with decades of experience in the air quality and home cleaning products industries, Oransi provides the best new green cleaning products from around the world to U.S. consumers – including HEPA air purifiers, ionic air purifiers for rooms and refrigerators, and green laundry products.
Media Contact:
Ria Romano, Partner
RPR Public Relations, Inc.
Tel. 786-290-6413
###