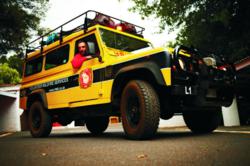 South Yorkshire (PRWEB) November 14, 2012
Regattaworkwear.com is a new enterprise undertaken in partnership with Regatta and BH Industrial.
As the name would suggest the website is based around the much lauded workwear concept by Regatta and showcases the advanced technologies which have made Regatta clothing tough, waterproof, durable, stylish and warm everything a wearer needs when working outside exposed to the lovely European climate.
The new Regatta Clothing website is also one of the first live sites to offer the new Hardwear range which is designed to seriously compete with other the other workwear brands already occupying the market the twist is Regatta Clothing have developed their workwear in areas many brands over look or do not focus on namely Jackets and softshells.
Launched in August 2012 the Hardwear range offers four workwear jackets and one bodywarmer with a view to launch three more products in January 2013.
Regatta Hardwear is aimed at the serious worker who needs complete protection from the elements as well as needing hard working and indeed hardwearing qualities such as resistance to abrasion and dirt/stain resistance. Regatta Clothing have produced some pretty unique and robust workwear products which are worthy of some serious consideration.
Why not be one of the first to try the Hardwear out and receive some free giveaways while stocks last.
BHI have also invested in developing the way consumers can shop to make it easier, cleaner and more responsive. After much research the one thing which kept cropping up was the time spent browsing through hundreds of products until you find the right one.
Iain Martin the co-Director of BHI- Regatta stated "Think about it when you're looking for products online unless you know a name or code to access the product right away you're stuck scrolling or clicking until you find what you are looking for.
With the new website you can search for any type of Regatta clothing using a very intuitive filter."
This new filter saves time and targets only viable Regatta Clothing products which meet customers' requirements and visitors can make this filter as wide or narrow as they wish.
Other websites will simply offer the Regatta jackets, fleeces, softshells, bodywarmers and trouser options where consumers are met with multiple pages of products and these visitors have to look further to find more useful information.
Now with the Regatta workwear site customers can choose what product type they are looking for, for example click on Regatta jackets customers are met with a choice of style, colour, size and finally a price range. Consumers are left with is a choice of a few key Regatta clothing products and no more which reduces "white noise".
If this wasn't enough, to cope with the inevitable questions and requests BHI have a team ready and willing to assist the consumers in any way.
While many brands are moving towards automated online operations BHI is intent on providing a knowledge base which will allow consumers to ask questions which are not always available on the website and feel more secure in the fact they can speak to someone about their choices, their order and their requirements.
This principle is key to BHI being successful and a greater customer experience and BHI has experimented with this Regatta clothing site with a view to developing other online stores in the same mould to provide more security and confidence for all online customers.
BHI has been operating for over 30 years sourcing and supplying cutting edge workwear and work products to some of the country's largest companies and organisations.
Regatta and BHI have partnered up to produce the Regatta Clothing website to push through to the next stages of online shopping experiences.