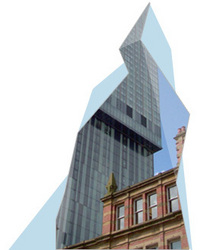 There are over 5.2 million properties in England at risk of flooding
(PRWeb UK) October 15, 2010
There can be no question that retrofitting existing buildings in response to the impacts of climate change is going to be a huge priority for the built environment community in the coming decade. While property-level solutions are important, the recently released Sustainable Development Commission report 'The Future is Local' sought to consider how this work should be done on a neighbourhood scale including the upgrading of community infrastructure. Erik Bichard, Professor of Regeneration and Sustainable Development at the University of Salford's School of the Built Environment served on the 'engaging communities in neighbourhood retrofit' task group.
The three key findings directly associated with their work said that:

The greatest benefits and cost-efficiencies will be achieved through delivering these improvements at the neighbourhood scale with community leadership;
Communities should be supported to work in partnership with all major stakeholders; and
Government support will be required, but significant cost savings to the public sector can be achieved.
"While I am convinced that this is a sound basis for government action, it is conceivable that centralised governance habits are so ingrained that, even with the policy upheavals instigated daily by the new Coalition, getting this done in a reasonable timeframe is doubtful unless some clear understanding of how people are motivated is taken on board.
"Over 80% of existing buildings will still be standing in 2050 which means we can't ignore the problem of existing stock. Environment Agency efforts to protect communities against the growing threat of flooding are a good way to illustrate the motivation issues. It will be impossible to protect all buildings against flooding in the future, and the Agency is trying to encourage property-owners to invest just over £1,000 (per household) in door guards and other measures such as air brick covers.
"There are over 5.2 million properties in England at risk of flooding, and just less than half a million properties are standing in significant risk areas. This number is likely to rise as the climate changes. The dilemma is rooted in ownership. Most of the commercial stock and over 70% of the residential stock in the UK is privately owned. Many studies, including my own show that where most property owners know they are in a flood risk area, but most do not think they will be affected by flooding. From a policy perspective this is a disaster waiting to happen. The choices for government are stark. It can force owners to protect their properties at high electoral cost and questionable enforceability. The alternative, seldom attempted in any policy circle, is to positively motivate change
"One idea being tested by my team at Salford University assumes that people can be encouraged to overcome their natural reticence to what the government tells them they should do. This may be possible ether by appealing to their sense of self-interest, engaging them in community discussions about the future of the neighbourhood, or preferably both at the same time. The overriding emotion associated with this approach is a positive feeling that where one is going is at least as good, or better than where one has been. The motivating energy is tuned to encourage people to choose to do something for themselves and for their communities because they want to do it and not because they feel they have to do it by law or they are compelled to act because the State has retreated leaving people to either do something or suffer. The work by the Salford University team concerns motivation ideas to act against flooding, but the approach is transferable to most situations where behaviour change is being sought.
"We have concluded that non-financial incentives work best. In field trials the Salford University team is asking people to invest (where appropriate) in flood protection in return for the same financial value in fruit and vegetables (healthy eating), garden makeovers (plant take-up of carbon, drives altered to allow flood waters to soak into the ground), public transport (fewer emissions, accidents and congestion), tickets to events (increased social interaction, increased spending in the local economy) and many other rewards. At the same time, a 'green community' effort is helping residents in the neighbourhood to get together to discuss environmental issues that concern them. This second strand promotes the exchange of ideas, which can become ingrained in a street or a neighbourhood. The visual cues that result from collective action are important here. Think of the effect that neat rows of recycling bins outside every house in the street have on the person who only has a weak commitment to recycling and has not yet put out their bin. The Salford trial will engage residents on topics including cheaper energy through heat co-operatives, the threat of flooding and what to do about it and other issues of their choice.
"Many norms have yet to be developed, particularly on what to do in the face of dangerous climate change, but this work and other efforts in different communities up and down the country are exploring the possibilities. The results of the Salford University trial will be out in a few months, but the initial signs are promising, and there is a lot of interest from transport companies, FE colleges, and retailers in furthering their interests to engage with their communities through this type of scheme."
Erik Bichard is actively involved with the MSc Regeneration and Urban Renewal Course at the University of Salford's School of the Built Environment, as Professor of Regeneration and Sustainable Development. His book (co-written with the psychologist Cary Cooper) on this subject is called 'Positively Responsible' and is published by Butterworth-Heinneman.
About the Salford School of the Built Environment
The School of the Built Environment (SOBE) at the University of Salford is the UK's premier school for Built Environment study and research. The school offers a range of academic study programmes at undergraduate and postgraduate level across the fields of Construction, Property and Facilities management and Architectural design. It has some 1100 undergraduate students, 450 Masters students and 160 PhD research students, from all over the world. Courses are studied full-time, part-time or even over the Internet - options that allow students to combine a career with study, with excellent career paths including urban regeneration jobs. Over 95% of the school's students achieve career positions on graduation. The school also has a tremendous research profile and is top rated by the UK Government Research Assessment Exercise for its work. The school's leading academics have an international reputation for excellence in many fields of the Built Environment including Urban Renewal. The school engages with its local, regional communities and industry through partnerships, which support knowledge transfer under the umbrella of Academic Enterprise. The schools vision is to be recognized as one of the top five Built Environment schools worldwide.
# # #