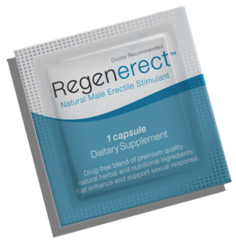 No Prescriptions. No unwanted doctor visits. Lasts up to 72 hours. All Natural Alternative.
Irvine, CA (PRWEB) April 08, 2011
Listen up men, in case you haven't noticed, the 'male enhancement', 'erectile dysfunction', 'male impotence' industry is now a multi-billion dollar marketplace with chemical-based drugs leading the way.
Now, for the first time ever, there is an all-natural alternative to suffering men around the world who remain in silence about their problems. Regenerect provides a natural solution to maximize male performance without putting men's health and life at risk. Regenerect is known as a Natural Male Erectile Stimulant that lasts up to 72 hours upon sexual response and stimulation.
Regenerect is a doctor recommended dietary supplement that is a drug-free proprietary blend of natural ingredients and herbal extracts. This combination promotes and enhances sexual activity, desire, and energy. In today's world, sexual activity is a major contributor to a satisfying and healthy lifestyle.
Men of the past never openly complained about their sexual frustrations and dysfunctions. But as product availability and attention grew over the past decade, men all over the world started to have a choice.
Unfortunately, choosing prescription based drugs put their life and health in danger. There are over 100 severe side effects and often life-threatening adverse reactions associated with these drugs.
This is where Regenerect by Regeneca steps up and provides the same erectile benefits without the known adverse reactions and serious side effects. Regenerect has been over 7 years of research to come up with its effective formula. Most guys know the blood holding spongy tissue is so important to stamina and longer lasting pleasure which is what Regenerect enhances.
The natural ingredients and herbal extracts in Regenerect's proprietary blend provide the same health benefits enhancing performance, stamina, and desire.
Regenerect ingredients include the following extracts:

Oyster Extract
Silkworm Extract
Epimedium Exract
Gouqi Extract
White Willow Bark Extract
The best selling pharmaceutical drug in the world is none other than an anti-depressant, with prescription-medications catered towards erectile dysfunction coming in close behind.
Regenerect is a dietary nutritional supplement that shows reliable and sustainable sexual activity can be achieved without the risk and danger of unforgiving side effects.
Please visit Regenerect by Regeneca today for more information on this revolutionary breakthrough product that is helping change men's life in a safe and natural way.
The statements and products shown on this website have not been evaluated by the US Food and Drug Administration. These products are not intended to diagnose, treat, cure or prevent any disease. Those seeking treatment for a specific disease should consult a qualified integrative physician prior to using our products if possible.
###