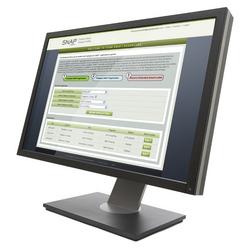 Regent SNAP accomplishes in minutes what some institutions are waiting a week or more to accomplish. It's a truly amazing and game-changing innovation that benefits both schools and students.
Frederick, MD (PRWEB) September 29, 2010
Regent Education, the leading provider of financial aid management Software-as-a-Service (SaaS) solutions for for-profit and private higher education institutions is pleased to announce the release of Regent SNAP™ (Student Need Analysis Profile)—an online solution for colleges seeking an easy to use, highly accurate and incredibly fast financial aid prequalification application that almost immediately answers the most important question on a prospective student's mind: "Can I afford to go to this college?"
Traditionally, the answer to this question—which hinges largely on an institution's response regarding available financial aid—has taken days or even weeks to reach a prospective student.
"With Regent SNAP, colleges and schools can provide an accurate answer to that question via their website," says Regent CEO Randy Jones. "And they can get that answer in about 15 minutes or less."
"Regent SNAP accomplishes in minutes what some institutions are waiting a week or more to accomplish," says Jones. "It's a truly amazing and game-changing innovation that benefits both schools and students."
According to statistics researched by Regent, approximately 40% of students select an institution based on the financial aid they expect to receive and 90% on the quality of support they experience during the financial aid application process. Nearly a million students who are eligible for federal grants fail to complete applications—and, consequently, many lose interest in pursuing a particular school.
By providing quick, accurate estimates of awards and out-of-pocket expenses, SNAP enables colleges to become the first to demonstrate affordability—often weeks ahead of competing institutions.
SNAP is designed so colleges can get up and running very quickly and with low startup costs, using a software-as-a-service (SaaS) hosting model that makes SNAP exceptionally easy to implement.
"Little or no support is required from the school's internal IT departments," says Shaun Poulton, Regent's CTO. "We provide high availability, fast application response times, and strong security safeguards."
Regent also makes sure estimates are always based on the very latest state and federal regulations. Colleges get an essential new capability and the highest level of support, while freeing dedicated IT staff to focus on other needs.
The Higher Education Opportunity Act of 2009 (HEOA) requires all colleges and universities that participate in Title IV student aid programs to post a net price calculator on their institutional Web site by October 2011. Regent SNAP more than meets that requirement—it provides even greater value as a fully customizable and flexible data gathering solution that can be used to support enrollment and admissions teams as well.
"Unlike simple cost calculator widgets, data entered into SNAP is retained—and can be reused by colleges to streamline workflow, eliminate redundancy and improve overall student self-service efficiency," says Lori Shaffer, SVP for Strategy and Corporate Development at Regent. "The product is exceptionally robust, flexible and scalable."
Quick Facts:

Regent SNAP provides an actionable award assessment in minutes—in real-time.
Delivering real-time aid prequalification provides institutions with a tremendous first-mover competitive advantage for enrollment.
SNAP retains student information, and can be easily customized and extended to support and streamline financial aid, admissions, enrollment and marketing operations.
This is the first closed-loop management solution to enable an institution to optimize conversion yield from application to enrollment.
SNAP provides an institution with a financially qualified lead—to optimize conversion yield—and empowers students to make an early decision about a particular school.
SNAP greatly reduces time-to-close as a result of a one-touch system, instead of traditional disparate and inefficient processes.
About Regent
Within the for-profit and private education market, Regent offers solutions specifically designed to address the unique needs of that industry—including automated awards for academic programs with monthly or frequent starts, clock-hour, even non-term, borrower-based award years (BBAY)—quickly and effectively. Processes that took weeks now take minutes. Outsourced services can now be cost-effectively managed in-house.
Since 2005, Regent has been an industry leader in financial aid software and recognized for results-driven enrollment optimization and financial aid management solutions—solutions that are web-based, easy-to-use, and interoperate with any existing student information system. We offer software-as-a-service solutions that help for-profit and private education institutions increase enrollment, improve retention, speed student processing, mitigate compliance risks and deliver bottom-line results.
For more information, about Regent SNAP or to request a demonstration, please visit http://www.regentSNAP.com, or call 800-639-0927.
###