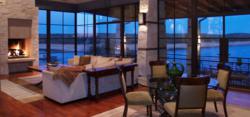 For those of us who genuinely love what we do for a living, these are exciting times in Austin real estate.
Austin, Texas (PRWEB) April 12, 2013
Potential buyers performing an Austin home search will find significantly less inventory to choose from than in times past, says premier real estate brokerage Regent Property Group. On April 9, 2013, 1,504 homes were for sale in Austin, versus the 2,457 homes that were for sale on April 9, 2012. That is a decrease of 953 homes, or almost 40 percent.
This significant decrease in home inventory has resulted in competition in the real estate market and a marked uptick in prices. The average sale price in March 2013 was about $48,500 higher than in March 2012, and the median sold price was about $31,600 higher. Year to date figures show similar increases: sold prices have been about $39,500 higher this year, and median sold prices have been higher by about $26,000. Considering that the median price for homes sold in Austin this year is about $270,000, these price increases indicate many homebuyers can expect to pay at least 10 percent more for a home in 2013 than they would have paid for a home in 2012.
Regent Property Group Founder Brian Talley says most buyers understand Austin home prices are beginning to increase, and they see firsthand the competition that arises with popular properties. "Homebuyers learn right away that their best asset in purchasing a home is being prepared – both financially and emotionally, meaning they're ready to act when they find the right home. When they find that perfect Austin home, it's time to make an offer that day."
Regent Property Group reports active home prices provide insight into a potential continual rise in prices, as the average list price is almost $850,000 and the median list price is about $474,000. In addition, 250 more homes have sold this year compared to 2012, 53 more homes sold in March 2013 compared to March 2012, and 1,729 homes were under contract when the stats were analyzed.
"For those of us who genuinely love what we do for a living, these are exciting times in Austin real estate," said Talley.
About Regent Property Group
Brian Talley founded Regent Property Group. He has been ranked among the top 1% of selling agents out of the over 5,000 Austin Board of REALTORS® members and closes multi-million dollars of transactions for homes located all over Austin, in areas such as Lake Austin, Eanes ISD, Westlake, downtown, and more. During 2011, Brian was the #11 top selling agent (#9 if including off-MLS properties) for total dollar volume sold in the greater Austin area. Talley, a 5th generation Texan, has been active in real estate since 1998. He formed Regent Property Group to serve the needs of Austin's residential real estate clients, helping people buy and sell luxury homes in the greater Austin area. Contact: info (at) regentpg (dot) com.