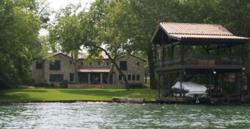 Residents can be found skiing, wakeboarding, fishing, and taking their boats out for a comforting saunter or a jaunty ride.
Austin, Texas (PRWEB) June 28, 2013
Premier Austin luxury homes brokerage Regent Property Group released a new video this week entitled, "Lake Austin Living" that answers a common question among prospective luxury homebuyers: "What is it like to live on Lake Austin?"
The video can be found on the Lake Austin page of the Regent Property Group website, along with written descriptions of the area and search results for homes for sale on Lake Austin, as well as on the specially-designed Homes Lake Austin website, that provides additional resources for those considering living on Lake Austin or for those who already have purchased a home on central Austin's lake.
The video features panoramic scenes of some of the largest and finest homes along the shores of the lake, as well as more modest homes that have been remodeled and offer well-established lakefront landscaping. The video provides a window into the native plant and animal life that is easily observable in more quiet times by local residents and also provides footage of some of the popular gathering spots along the shores.
Described as an "oasis," a "personal luxury," and a "dream," the video points to Lake Austin's constant year-round water level as one of its appeals. "Residents can be found skiing, wakeboarding, fishing, and taking their boats out for a comforting saunter or a jaunty ride. Neighbors greet neighbors from boats and personal boat docks, friends wave at excited children … and welcoming businesses open their doors to share in food, drink, revelry, and the communal experience of life on Lake Austin."
To learn more, visit the links above to view the video, or contact Regent Property Group for a detailed assessment and information on how you can begin your own Austin home search to purchase a treasured piece of Lake Austin real estate.
About Regent Property Group
Regent Property Group was founded by Brian Talley, who has been ranked among the top 1% and 2% of Austin Board of REALTORS® members. He is a personal top producer, closing multi-million dollars of transactions for homes located all over Austin, in areas such as Lake Austin, Eanes ISD, Westlake, downtown, and more. During 2011, Brian was the #11 selling agent (#9 including off-MLS properties) for total dollar volume sold in the greater Austin area. Talley, a 5th generation Texan, formed Regent Property Group to serve the needs of Austin's residential real estate clients, helping people buy and sell luxury homes in the greater Austin area. Contact: info(at)regentpg(dot)com, or call today at 512.554.9714.