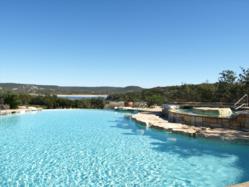 Set apart from the city, the sense of a small town combined with proximity to Austin and the beauty of the lake, woods, and hills is tough to beat in terms of desirability.
Austin, Texas (PRWEB) November 15, 2011
Regent Property Group has released a detailed profile of the Lago Vista community, The Hollows, located a short 30 minutes from Austin, to give prospective home buyers an idea of the lush amenities waiting a short drive from the rush of city life. Northwest Austin shares shoreline with Lago Vista along Lake Travis, where The Hollows development is located. The luxury home community doubles as a secluded homestead for Austinites seeking a peaceful retreat in the hill country and as a vacation spot for city dwellers who want an escape to nature they can reach before dinner time. The master-planned development spans 1,400 acres, and boasts over 18 miles of scenic hiking trails, a marina, a Beach Club, dining and bar-b-que facilities, swimming pools, and an array of private amenities available to property owners.
Brian Talley, the founder of Regent Property Group, is an expert on this hill country resort property, providing video tours and online information for those interested in real estate in beautiful Lago Vista, home to The Hollows community. "Set apart from the city, the sense of a small town combined with proximity to Austin and the beauty of the lake, woods, and hills is tough to beat in terms of desirability," said Talley about the community's draw.
The profile of the community includes detailed information about each amenity, including The Hollows Beach Club, a prime place for relaxing or spending time with friends and family. Active residents can wait until the evening to wind down at the Beach Club, as daytime offers volleyball, swimming, kayaking, boating, fishing, hiking, biking, and a fitness center to keep nature lovers entertained for a lifetime. A large covered marina housing motor boats, jet skiers, and sail boats is also available for property owners to house their water craft, refuel, or have a scenic picnic. Lake Travis has over 60 miles of shoreline to explore, most of which can only be reached by watercraft.
If escaping to a peaceful retreat every day sounds enticing, contact an Austin Realtor to see what Austin lakefront living has to offer.
About Regent Property Group LLC
Brian Talley is the founder and owner of Regent Property Group. He is ranked among the top 1% of selling agents out of the 5,313 Austin Board of REALTOR® members. For the past four years, Brian has been a top producer, closing multi-million dollars' worth of residential purchase and sales transactions for homes located all over greater Austin. Talley has been active in real estate since 1998 where he began his career working as a retail development, sales, and marketing executive. Advancing to work for a Fortune 100 firm as a Vice President of Global Real Estate and Facilities, he noticed the deficiency of highly experienced and trained corporate and commercial real estate executives serving the residential real estate industry. Realizing there was a need to be filled, Talley left the Fortune 100 firm and formed Regent Property Group, which helps clients buy and sell luxury homes in the greater Austin area. For more information on Austin real estate, contact Regent Property Group at 512.554.9714.
###