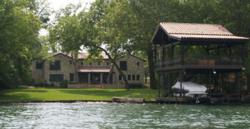 "The entire home searching experience with Brian and his team was exceptional. Brian is very professional, experienced, and above all, patient. Even after the sale, the follow-up was really an unexpected plus!"
Austin, Texas (PRWEB) October 07, 2011
Regent Property Group, a leader in Austin luxury home sales, has launched a new website, Home Search in Austin, to help potential homebuyers and Austinites who own homes assess property values and pinpoint the house of their dreams. Regent Property Group has a mission to help customers get the best value on every real estate transaction and provide the highest level of customer service, experience, market knowledge, and state-of-the-art technology to help customers achieve their financial objectives. The site serves as a tool to further help customers make wise financial decisions with regard to their real estate transactions.
The site allows anyone looking for a new Austin home to browse listings by area of Austin, school district, zip code, and subdivision. An accompanying blog written by the Regent Property Group Team highlights events, businesses, market information, and attractions relevant to neighborhoods where Regent Property Group has homes available for sale or has helped buyers.
Austin Realtor Brian Talley, the founder of Regent Property Group, said he established the website "to make the home buying process more transparent and less stressful for my clients. Home buyers are smart, and they want to do their research beforehand, and this website helps make that easier."
Talley is known in Austin for his market knowledge, executive level experience, customer service focus, vigilant follow-up, and attention to detail. Visitors to the website can read pages of testimonials from clients, like those who said, "The entire home searching experience with Brian and his team was exceptional. Brian is very professional, experienced, and above all, patient. Even after the sale, the follow-up was really an unexpected plus!"
If you are interested in the current market value of your Austin property, or interested in Austin homes for sale, stop by the newest addition to the Regent Property Group family of websites for a host of information backed by years of professional experience.
About Regent Property Group LLC
While working for a Fortune 100 firm as a Vice President of Global Real Estate and Facilities, Brian Talley noticed the deficiency of highly experienced and trained corporate and commercial real estate executives serving the residential real estate industry. Realizing there was a need to be filled, Talley left the Fortune 100 firm and formed Regent Property Group, which helps clients buy and sell luxury homes in the greater Austin area. Talley is experienced with facilitating multi-million dollar home purchases, and he appreciates the discriminating needs of luxury home buyers. Brian continually is a top-tier Realtor® and performed in the top 2% of selling agents in the greater Austin area during 2010 in terms of dollar volume sold and number of homes sold.
###