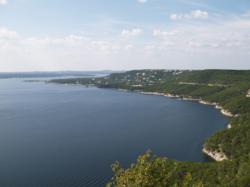 "This is a comprehensive resource for anyone looking to learn more about what Lake Travis has to offer. I'm pleased to know home buyers can come here with ease to find everything they need to make an educated Lake Travis home purchase."
Austin, Texas (PRWEB) September 12, 2011
Regent Property Group is pleased to announce the launch of its new website focused on Lake Travis homes for sale. In addition to a powerful property search functionality for Lake Travis real estate, FindLakeTravisHomes.com serves as a single point of reference for potential home buyers, residents, and visitors.
Austin Realtor Brian Talley led the development of the new site to equip home buyers with the information they need to make an informed purchase. "This is a comprehensive resource for anyone looking to learn more about what Lake Travis has to offer. Our goal was to compile practical information and then make it accessible. I'm pleased to know home buyers can come here with ease to find everything they need to make an educated Lake Travis home purchase."
Lake Travis is a large lake of almost 19,000 acres with 270 miles of shoreline. To help facilitate a clear and concise overview of lakefront living, the new site organizes communities by region: north shore Lake Travis and south shore Lake Travis. In this format, nine Lake Travis neighborhoods (Lakeway, Spicewood, Briarcliff, Jonestown, Hudson Bend, Lago Vista, Pointe Venture, Volente and Lower Basin) are detailed with pertinent facts and figures, including date established, average home price, population, local amenities, miles from downtown Austin, MLS Map Location, school district, neighborhood home builders, and number of homes. Lake Travis restaurants also are outlined within the site.
In addition, site visitors will find easy access to information for water enthusiasts. Dozens of Lake Travis marinas and Lake Travis boat ramps are listed, organized according to location and detailed with phone numbers, websites, and physical addresses. Both sections are equipped with a map outlining the precise location of each facility. Whether boating on Lake Travis for the day or boarding a boat overnight, Lake Travis boaters will learn exactly where to take off and land.
With so many areas and attractions along the shores of Lake Travis, it can often seem like a daunting task to access information relevant to lakefront living. Regent Property Group's new Find Lake Travis Homes website has consolidated everything important to know about Lake Travis homes for sale, offering an exceptional amount of detail within a highly accessible format.
About Regent Property Group LLC
While working for a Fortune 100 firm as a Vice President of Global Real Estate and Facilities, Regent Property Group founder Brian Talley noticed the deficiency of highly experienced and trained corporate and commercial real estate executives serving the residential real estate industry. Realizing there was a need to be filled, Talley left the Fortune 100 firm and formed Regent Property Group with the goal of providing top notch real estate services to not only the Austin commercial real estate industry but also to home buyers and sellers. Talley is included in Austin's top tier of agents, facilitating multi-million dollars of real estate transactions each year.
# # #