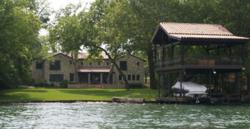 We want to ensure that clients understand the plethora of options and upgrades available in the luxury real estate market.
Austin, TX (PRWEB) November 14, 2011
Regent Property Group has created an extensive and informative luxury home lingo index, differentiating itself yet again as the best choice for luxury real estate in Austin, Texas. Designed to make the home buying process easier and more transparent, the page includes pictures to help clients visualize the types of products and features available in upscale homes, typically priced at $1 million and above.
Demystifying the real estate market and providing quality client experiences are overarching goals of Regent Property Group, said founder Brian Talley, who devised the idea of adding a luxury lingo glossary when he noticed his high-dollar clients were being introduced to so many new available features that were not part of their home buying terminology.
"I want to help potential clients browsing MLS luxury home listings fully understand what these homes offer," said Talley, Austin's premier luxury home expert. "We want to ensure that the people who count here, the clients, understand the plethora of options and upgrades available in the luxury real estate market." Real estate terminology is different in many ways, he said, because Austin's market has distinct features compared to other real estate areas around the country and world.
Browsing home listings can be daunting, whether it's a jet-setting bachelor looking for a helipad and a theatre room, a health-conscious couple looking for an infrared sauna and a saline pool, or a family searching for invisible appliances, a home gym, and a dumbwaiter to make its hectic life simpler. The luxury lingo page takes all upscale buyers into account and includes features that may be found in a starter $1 million property in River Place or a $12 million ultra-luxury home on Lake Austin.
The alphabetized index covers terms that range from architectural styles to elements of design and increased functionality to high-tech home improvements. It is inclusive of styles and locations, such as lakefront, lake view, hill country, gated, golf course, and more. The page will be updated continually by Regent Property Group as new features begin appearing in the real estate market. Regent Property Group is considered the best luxury home team in Austin.
About Regent Property Group
Brian Talley is the founder of The Regent Property Group. He is ranked in the top 1% of selling agents out of the 5,313 Austin Board of REALTOR® members. Over the past four years, Talley has been a top producer, closing multi-million dollars' worth of transactions for homes located all over Austin. Talley has been active in real estate since 1998, when he began his career working in retail development, sales, and marketing. He formed Regent Property Group to serve the needs of Austin's residential real estate clients, helping people buy and sell homes in the greater Austin area. To learn more about Austin luxury homes, contact Regent Property Group at 512-554-9714.
# # #