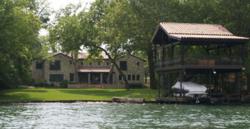 Between 1999 and present, luxury home sales have increased in Austin by 493%, at an average increase of 62% a year.
Austin, TX (PRWEB) November 01, 2011
Austin luxury home experts Regent Property Group have released a monthly market statistics update on area luxury real estate. An Austin luxury home, defined as a single family home at a price point of $1 million or higher, is a solid investment purchase when buyers enter the market understanding market conditions and forecasts for their desired areas. In Austin, the forecast for luxury home sales is bright.
Brian Talley, Regent Property Group founder and foremost luxury home REALTOR® expert, compiled the market statistics using data provided by the Austin Board of REALTORS®. Their records indicate that between 1999 and present, luxury home sales have increased in Austin by 493%, at an average increase of 62% a year. Following similar trends as the non-luxury market, home prices have raised steadily at 2.8%.
Currently, there are 218 Austin luxury homes for sale, with a median list price of $2,500,000, averaging 199 active days on the market. A typical luxury home has 4 bedrooms, 6 bathrooms, and 6578 square feet. The price of homes available today range from $1,500,000 up to $12,000,000.
Seventeen luxury homes are presently pending sale with a median list price of $1,875,000 after an average of 132 active days on the market. Once closed, these 17 will join the 65 luxury homes that have sold over the last 6 months.
Austin luxury homes can be found throughout the city, including in the River Place neighborhood, Steiner Ranch, and Barton Creek, with high desirability for lakefront property. Lakefront luxury homes can be found on both Lake Austin and Lake Travis.
To learn more about the Austin luxury market, visit the Regent Property Group market statistics blog for luxury homes, or contact luxury home expert Brian Talley directly.
About Regent Property Group LLC
Brian Talley is the founder and owner of The Regent Property Group. He is ranked among the top 1% of selling agents out of the 5,313 Austin Board of REALTORS® members. Brian has been a top seller for four consecutive years, closing multi-million dollars' worth of residential transactions for homes located all over Austin. Brian has been active in real estate since 1998 when he began his career as a retail development, sales, and marketing executive with retail developer Weston Companies. He advanced to work as the Vice President of Global Real Estate and Facilities of a Fortune 100 firm, where a lack of trained, expert real estate agents serving the residential community became apparent to him. Deciding to fill that need, he founded the Regent Property Group, which now serves clients buying and selling luxury homes throughout the Austin metro area. For more information, contact Brian Talley at 512-554-9714, or visit him on the web at http://www.regentpg.com.
# # #