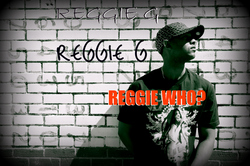 "Most people are not fortunate to have their opinions heard on a public stage in their lifetime and rap has given me that outlet."
Dallas, TX (PRWEB) November 16, 2010
Not your ordinary rapper, the first three singles from the album, "I Stay On It", "Presidential" and "Whatever Kind You Like" showcase the talent of this Dallas, TX based hip hop artist, who is breaking out of the traditional genres of music with his take on hip hop. Holding a Masters Degree in Economics, Reggie leads by example, teaching economics as a college professor in Dallas, TX.
"I Stay On It", with a guest appearance by Grammy Award winning rapper, Chamillionaire, received urban radio airplay, charting on the Billboard Rhythmic Top 40 and Hot Rap Tracks charts in 2010. Having spent these last years building his fan base and perfecting his music in the southern region, Reggie G is now ready to branch out and bring his music to the rest of the world. Production features some of music's most accomplished producers from Jerome Harmon, Chris Godbey, The Villanova, Ensayne Wayne, Hypnotiq Productions and mixed by Grammy Award winning Tre Nagella, this album brings together some of music's most knowledgeable music talents.
The album, a compilation of some of Reggie G's most forward thinking and catchy sounds, is sure to make waves in the hip hop world, featuring the incredible versatility of this break out artist. Singles from the album have been featured on CBS's CSI and also showcased on ABC's The Forgotten TV show.
An artist committed to bringing relevant music to people, Reggie noticed a disconnect between an artist's true emotion in the musical lyrics of everyday hip hop and what was happening in real life, and those lives of people around him. With this album, Reggie wants to keep the listeners in tuned to his visions and opinions but also entertained with a selection of catchy hooks and witty lyrics.
"Having worked on this album for some time, I've gotten to better understand how much my personal life has changed me by staying in school unlike most of my friends from childhood that had major setbacks from making poor choices in their lives," said Reggie G. "Most people are not fortunate to have their opinions heard on a public stage in their lifetime and rap has given me that outlet.""With this outlet I have created songs I believe people both fortunate and less fortunate will connect with, since my songs describe various thoughts and times in all of our lives."
The album, "Reggie Who?" currently available, can be purchased online from iTunes, Rhapsody, Zune, Amazon and MySpace, among others and will also be available in physical cd's, flash drives and ringtones through Mastamindslive.com or http://www.reggieglive.com
About Reggie G
Reggie G is a Dallas, Texas based hip hop artist with a unique background in both education, business and music. Born in Louisiana and educated at Southern Methodist University, Reggie is the modern incarnation of hip hop with a nod to tradition. Working with some of the music industry's top talent, Reggie has built an impressive music library. As co-owner of Masta Minds Entertainment LLC, Reggie is also active not only as an artist, but as a successful entrepreneur and leader for inner city growth in Dallas TX.
About Masta Minds Entertainment LLC
Masta Minds Entertainment LLC was founded in 2007 by Reggie Gray in order to create, design, develop, promote and market quality music and musical merchandise produced by up and coming artists. This music is marketed to the trade and consumers without categorizing the music into specific genres or stereotypes.
Offering a variety of services and locations, Masta Minds Entertainment is capable of handling everything from pre-production to post-production marketing of an artist's musical endeavors.
For more information on Masta Minds Entertainment LLC please visit http://www.mastamindslive.com.
For more information or interviews please contact:
Jamie L. Rothschild
Rothschild Public Relations/Mastaminds Ent. LLC
http://www.mastamindslive.com
214.228.6093
###