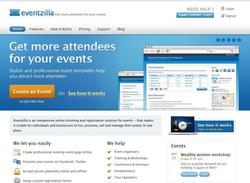 Eventzilla uses a pay for performance model, which means clients only pay fees for the tickets they sell. This makes it perfect for those who do not want to pay a recurring fee. Eventzilla is absolutely free for free events.
Chennai, India (PRWEB) May 11, 2010
Individuals and businesses seeking a better solution to ticketing troubles can now turn to Eventzilla http://www.eventzilla.net - the latest web-based event registration website launched this month.
The venture was conceived to serve anyone planning an event - few examples of those who might benefit from Eventzilla include professional event organizers, training providers, movie exhibitors, comedy clubs, entrepreneurs, business coaches as well as small to medium sized businesses looking for an economical solution for their registration and ticketing needs. However on the same note, the solution easily scales for use in an enterprise environment. Eventzilla uses a pay for performance model, which means clients only pay for the tickets they sell. This makes it perfect for those who do not want to pay a recurring fee.
Selling tickets and managing registrations for any event, be it small seminars or large concerts, can be a nightmare for anyone. The Internet has made it much easier to reach out to large volumes of people, and a few websites offer services to undertake the registration process. These websites, however, often come with exorbitant price tags. On the contrary, Eventzilla's pricing starts as little as $.50 per ticket; with free events incurring no charge. "Eventzilla provides a platform to create professional-looking event web pages that give your company a Fortune 500 look at the fraction of the price," says Ravi Kumar, Principal Account Manager. "Our users pay only for the tickets that they sell, allowing them to take advantage of our robust event management tools without paying expensive licensing fees."
Created by Thoughthub Solutions, Eventzilla has been in business since mid 2008 and combines the technical know-how and experience to give users the best possible experience. Signing up is free, as well as customizing a event web page to work with the organizer's current branding, including a personalized URL. Event organizers can create custom registration forms and set-up ticketing instantly, and start receiving sales proceeds in up to 23 different currencies including USD,AUD,EUR,CAD,SGD,INR instantly through Eventzilla's secure payment process, without the need to set up merchant accounts or undergo complex formalities that are usually associated with transacting online.
Attendees can print out individual, bar-coded tickets, pick them up at the event, or choose to receive them by mail depending on the organizer's convenience. On the other hand organizers can get an overview of ticket sales and attendee profiles in real time. After setting up an event, organizers can promote it seamlessly via email, social media (Facebook, Twitter, etc.) and sell tickets through their website, blog or even on partner sites. Eventzilla also has a free dedicated box office module that is specifically built to support faster sales transactions over the phone or over the counter. Eventzilla even allows the organizers to choose if they would like the small convenience fee to be paid by their attendees or by themselves. A full list of Eventzilla's features can be reviewed at http://www.eventzilla.net/features.
Eventzilla gives organizers complete control over their event through its flexibility and ease of use; and this has been the clinching factor for many our clients. "Eventzilla has taken the stress out of organizing an event, providing us a platform to promote our event online via our website and our social media pages – while giving us the flexibility of managing online and offline payments for orders" says Ms. G. Narayan from AB Accountancy, Brisbane Australia.
With several new interesting features in the horizon, including integration plug-ins for popular CRM platforms such as Salesforce and NetSuite, mobile ticketing, additional payment solutions and a whole host of other features driven by the continuous market dynamics, Eventzilla is committed to remain the most affordable value proposition of event organizers worldwide.
As a special launch promotion, Eventzilla is offering a no-obligation 60 day free trial. That's correct, you pay absolutely no commission for sales during the first 60 days, allowing you to fully explore and experience how simple event management can be. Sign up for your account today at http://www.eventzilla.net/signup and take advantage of this genuine 60-day free trial offer. For more information visit http://www.eventzilla.net or write to us at support(at)eventzilla(dot)net
# # #