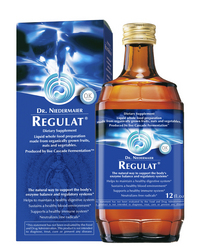 All in all, Regulat is one of the most active products for rebuilding intestinal harmony - especially the intestinal flora - and for overall acid base metabolism (pH)
Kaneohe, HI (Vocus) July 21, 2010
Nestled in the mountains of Eastern Switzerland, near Austria and Liechtenstein, sits the Paracelsus Klinik, the world-famous clinic that uses biological medicine in treating patients. Clinic Director Dr. Thomas Rau was in the US recently, to talk about Lyme Disease, Chronic Fatigue Syndrome, Colitis and digestive issues, MS, Chemical Sensitivity and other ailments. Patients come to his clinic from around the world to be treated for these conditions, as they are generally not successfully treated with conventional (allopathic) medicine.
Among the supplements used at the clinic is a drink made from fruits and vegetables. This product is not your ordinary vegetable juice, but is processed via a special technique called cascade fermentation, which breaks down the ingredients into essential micro- and phyto-nutrients. Fermented foods have come into the spotlight recently because many have been found to contain beneficial enzymes and other health-giving ingredients. These include foods like kombucha, kimchi (cabbage) and natto (soybeans).
The fruit and vegetable 'cocktail' used at the clinic is called Regulat, its name coming from its supposed ability to help balance the bodily systems, the blood environment and many other bodily mechanisms that may be out of balance. "All in all, Regulat is one of the most active products for rebuilding intestinal harmony - especially the intestinal flora - and for overall acid base metabolism (pH)", says Rau.
The importance of acid base balance in overall health is outlined in this description from the Merck Manual: "The body's balance between acidity and alkalinity is referred to as acid-base balance....even a minor deviation from the normal range can severely affect many organs". And says Wikipedia, "Outside the acceptable range of pH... enzymes lose their ability to function, and death may occur."
Enzymes are responsible for thousands of actions everyday and if these are disrupted, the body cannot function normally. If an imbalanced blood environment can cause problems with enzyme activity it is no wonder that some complementary practitioners believe that 'acid blood' provides the conditions for certain viruses and bacteria to survive. And so a lot of emphasis in maintaining normal health is concerned with alkalizing the blood and correcting the pH balance to ensure better health.
Dr Rau speaks a lot about the 'milieu' or environment (as in the blood environment) and a large part of his treatment seems to be to remove toxins and to create a healthier, balanced 'inner milieu' or healthy blood environment. Even Pasteur, the father of the germ theory of disease, is said to have admitted on his deathbed that rather than germs being the most important thing in disease, actually 'the inner terrain is everything'.
Of course, we know of a similar relationship in the external environment - we are all aware of the health risks after an environmental 'imbalance' such as a flood or where conditions become unsanitary - an unhealthy environment favors the spread of vermin, viruses and harmful bacteria.
Everything we eat, breathe or consume affects the biochemical composition of the body, for better or for worse. Unfortunately the modern diet and lifestyle tend to cause an acid overload, which if not neutralized, develops into an acidotic state that can be detrimental to health. Wonder what the connection is between gout, arthritis, skin rashes, diarrhea, constipation, irritable bowel and many other ailments that a friend or relative has? Many have their basis in an acid state of the body...
And the ailments don't stop there. The American Journal of Clinical Nutrition conducted a 7-year study of 9000 women. The end-result was that those who had an excessive intake of acid-causing food suffered a higher risk of loss of bone mass than participants with a more alkaline diet. Researchers concluded that many fractures suffered by older women may be connected to high acid levels in the body. (In order to try keep the pH in balance, the body extracts calcium -which is alkaline- from the bones, leading to a more fragile bone structure.)
Regulat helps to detoxify the body naturally and also to alkalize (balance the acid/alkali levels). This is one of the reasons why it has such a powerful effect on digestive health. A recent study found an improvement in symptoms such as abdominal pain, diarrhea, and constipation - in fact all 7 symptoms of irritable bowel syndrome improved after the recommended Regulat diet!
Balancing the blood environment could be one of the important steps people could take toward better overall health and living with less bodily aches and pains. And if you don't know whether all of the food you are eating is good for you, don't worry too much. Just like at the Swiss clinic, you could add the cascade-fermented fruit and vegetable drink to your diet.
For further information visit http://www.regulat-usa.com
###