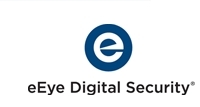 Phoenix, AZ (PRWEB) February 21, 2011
eEye Digital Security, a provider of IT security and unified vulnerability anagement solutions, is exhibiting this week at HIMSS 2011, the annual conference and exhibition of the Healthcare Information and Management Systems Society in Orlando, Florida, February 21-24, 2011.
eEye invites the media and 2011 HIMSS Conference attendees to explore the company's latest innovations, demonstrated in Booth 3888, primarily the newly released Retina CS Management solution, as well as add-on modules for Configuration Compliance, Regulatory Reporting, and Patch Management.
eEye's Retina CS Management solution, in combination with Regulatory Reporting packs, allow healthcare organizations to reduce the cost of HIPAA (and other) compliance costs by automating the management of controls and procedures. Retina also enables healthcare organizations to increase security across the IT environment with centralized monitoring and reporting on enterprise-wide vulnerability management.
"We place critical focus on helping healthcare organizations simplify how they meet strict compliance and IT security requirements," said Brad Hibbert, VP Strategy, eEye. "Our Regulatory Reporting packs, in particular, give these organizations an automated method of aligning with HIPAA while also maintaining the highest security standards across the organization with centralized management and reporting."
Follow eEye Digital Security
Twitter
LinkedIn
Facebook
About eEye Digital Security
Since 1998, eEye Digital Security has made vulnerability and compliance management simpler and more efficient by providing the only unified solution that integrates assessment, mitigation, protection, and reporting into a complete offering with optional add-on modules for configuration compliance, regulatory reporting, and integrated patch management. eEye's world-renowned research and development team is consistently the first to uncover critical vulnerabilities and build new protections into our solutions to prevent their exploit. Thousands of mid-to-large-size private-sector and government organizations, including the largest vulnerability management installations in the world, rely on eEye to protect against the latest known and zero-day vulnerabilities. More at eeye.com.
# # #