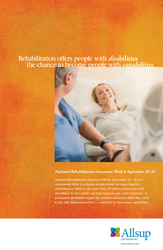 The Faces of Triumph Over Disability.
(Vocus) August 24, 2009
An aging population and medical advances are a couple of factors fueling the need for rehabilitation professionals, and the National Rehabilitation Awareness Foundation (NRAF) is honoring the difference they make during the 2009 National Rehabilitation Awareness Celebration on Sept. 20-26, 2009. Organizations, including Allsup, a nationwide provider of Social Security disability representation and Medicare services, are helping raise awareness about the important role of rehab professionals.
There are a number of factors influencing the demand for rehabilitation services, including:

Growing incidence of heart attacks and stroke among the baby boomer generation (U.S. Bureau of Labor Statistics/BLS).
Nearly 800,000 Americans will suffer a new or recurrent stroke this year (National Stroke Association).
Aging population: Those age 55 and older numbered 70 million in 2008, compared to 61.6 million in 2003 (U.S. Census Bureau).
Nearly one in 50 people are living with paralysis as the result of stroke, multiple sclerosis, motor vehicle accidents and other causes (Christopher & Dana Reeve Foundation).
The number of people living with disabilities will continue to increase as medical advances improve survivability for patients (BLS).
Therapists, nurses and physicians working in rehabilitation help people achieve significant accomplishments in their recovery from medical conditions and injuries such as brain and spinal injuries, burns, arthritis and other diseases. Estimates show that for every $1 spent on rehab care, $11 in long-term disability costs is saved, according to the NRAF.
During rehabilitation awareness week, the NRAF, healthcare providers and other groups are expressing thanks for rehabilitation professionals who provide compassionate support to patients year-round. This year's theme is "The Faces of Triumph Over Disability."
Allsup is observing the National Rehabilitation Awareness Celebration with a limited number of free posters available to hospitals, clinics and other community groups by calling Karen Hercules-Doerr at (800) 854-1418, ext. 5770.
NRAF contact:
National Rehabilitation Awareness Foundation
Jim Brogna
(800) 943-6723
http://www.nraf-rehabnet.org
Free posters:
Allsup
Karen Hercules-Doerr
(800) 854-1418, ext. 5770
http://www.allsupcares.com
###