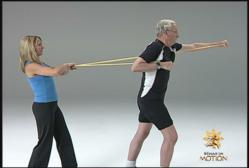 "I've had 17 surgeries (4 ankle, 3 knee, elbow, shoulder and hand surgeries. If Rehab In Motion™ can work for me, an ex-professional athlete, I know it can work for you."

Marcus Jones, Former Professional Football Player
Naples, FL (PRWEB) February 15, 2012
Rehab In Motion™ was founded in 2011 by Dr. Samuel Hess, Orthopedic Surgeon at The Advanced Orthopedic Center, Port Charlotte, Florida. Dr. Hess witnessed firsthand how insufficient insurance and lack of patient education impairs the kinesthetic recuperation of his patients. The industry standard for at-home therapy or continuation of care typically consists of handing patients archaic drawings of exercises. Rehab In Motion™ DVDs provide detailed and informative instruction on over 75 stretches and exercises for the back and spine, upper extremity (shoulder, elbow and hand) and lower extremity (hip and knee). Each exercise is demonstrated by a licensed physical therapist in a one-on-one format to ensure the exercises are executed properly and effectively for maximum patient benefit.
In today's society, 80% of the adult population will have debilitating back pain in their lifetime. Over 250,000 patients per year will undergo spine surgery, 400,000 patients will undergo a mobile knee operation and 250,000 will have hip replacement. These numbers count for just for the orthopedic and neurosurgeon community. Vast numbers of other surgery procedures burden the patient with countless hours of much needed rehabilitation, either in specialty centers covered by insurance or Medicare or unfortunately for some, out of pocket.
Rehab In Motion™ DVDs are used in the privacy, comfort and convenience of one's home, and save time and money associated with ongoing physical therapy treatments. The DVDs are not a replacement for traditional "hands-on" therapy; rather, they fill the void of a convenient and cost-effective alternative for patients who will benefit from additional physical therapy or need an alternative to clinic-based rehabilitation due to insufficient insurance.
Rehab In Motion DVDs are available online at http://www.rehabinmotiononline.com. The cost of the DVDs are the equivalent one or two co-pays for "hands on" PT treatments.
Rehab In Motion™ will change the way in which physical therapy becomes available to anyone who suffers from pain.
About Rehab In Motion™
Rehab In Motion™ was developed to deliver comprehensive, professionally produced and inexpensive instructional DVD's for consumers needing continued or desired rehabilitation. With Physical Therapy coverage being decreased by insurance companies, the DVD's available from Rehab In Motion™ help those with limited insurance policies receive the help they need in the comfort of their own home.
###