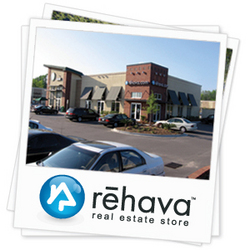 rehava is a foundational change in the way real estate is transacted. By giving the consumer some of their equity back, we are making a real impact on their personal financial position, sometimes as much as 2.5 percent of the sales price
Charleston, SC (PRWEB) May 19, 2008
From its store front office in one of the busiest mall locations in the state, to its state-of-the-art technology, to the buyer's rebate it offers, the rehava ~ Real Estate Store is reinventing home buying and selling and aiming for complete customer satisfaction.
The company was founded last year by Broker-In-Charge Steve deGuzman and opened its doors in the spring of this year at 5060 International Boulevard. Although the Grand Opening is in July, business is well underway.
"Essentially this is a retail residential real estate store," says deGuzman. "We have a high-end gallery in front of the Tanger Outlet Center, and we focus on the residential real estate market."
Following a Department of Justice lawsuit against the National Association of Realtors over competition and commissions, deGuzman says it is not legal to give a commission to anyone who is not a licensed agent, but since June of 2006, it has been legal in South Carolina to offer a rebate to the home buyer. On the west coast, companies have been rebating their clients for years. rehava has taken this idea to the next level with the only retail store front of its kind in the United States.
One of the more innovative aspects is the buyers rebate. "You receive a check at closing for 50% of the buyer's agent's commission when you use one of our licensed Client Advocates to buy your next home," he says. "But if you buy AND sell your home with rehava, you can receive up to 70% of the total seller's fees back in rebates and commission reductions."
deGuzman says the company further sets itself apart from the standard real estate agency by paying the Client Advocates a salary rather than commission. "It's a real focus on service to the client."
"All of our Client Advocates are licensed agents and realtors, but they're non-commissioned," he explains. "That's how we can best advocate our client's position. In fact, we don't go to the closing. In South Carolina, the attorney represents you at the closing. And in this case, the buyer is the one who receives the rehava rebate check."
The company has developed its own technology, with a real estate search tool and videos, which deGuzman says helps keep the costs down.
"We are search engine marketing experts," he says. "I am not aware of anyone who offers more distribution channels for selling your home than rehava. Our clients see their listings on search engines like Google, Yahoo, Facebook, Realtor.com, Craigslist, Trulia, Zillow and others. We furnish this data as an XML feed that automatically updates when the local MLS board updates its information. According to the NAR, more than 80% of the people who buy a home, initiate their search online. We make that process easier and we are rewarding the consumer financially for starting the search online."
During the grand opening period, rehava is offering to sell its first 100 buyer's homes for free.
"rehava is a foundational change in the way real estate is transacted. By giving the consumer some of their equity back, we are making a real impact on their personal financial position, sometimes as much as 2.5 percent of the sales price," said deGuzman.
The rehava ~ Real Estate Store intends to grow regionally before seeking national expansion. deGuzman says that future growth plans have become attractive as more Brokers and Agents are introduced to the concept. Saying he has been 'encouraged' by the overwhelming support from the local business community, deGuzman hopes to announce new locations soon.
About the rehava ~ Real Estate Store
The rehava ~ Real Estate Store offers an innovative 50% buyer's commission rebate to home buyers when they purchase their primary residence using one of our Client Advocates. Located in Charleston, SC, the rehava ~ Real Estate Store is a full service residential real estate Broker.
For more information contact:
rehava ~ Real Estate Store
steve.deguzman @ realtor.com
843.864.3432
Fax: 866.745.5718
###