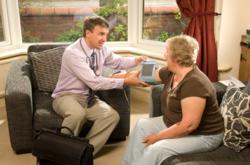 HARP is an excellent example of three Bay Area health care organizations working together in support of a vulnerable patient population.
Sunnyvale, California (PRWEB) March 14, 2012
El Camino Hospital, Pathways Home Health & Hospice and Bay Area House Call Physicians have recently introduced HARP (House Call Re-Admission Reduction Program) to reduce the re-admission rate of hospital patients. HARP will provide coordinated care for homebound and frail patients transitioning from hospital to home.
Patients being discharged from the hospital who are eligible and elect the HARP program will receive care from all three organizations in a collaborative effort. El Camino Hospital will treat and prepare the patients for discharge and recovery at home, while Pathways, El Camino Hospital's Home Health and Hospice service, will provide in-home clinicians including nursing, rehabilitation therapists, and home health aides.
A physician from Bay Area House Call Physicians in coordination with the patient's attending physician will evaluate the patient in the hospital and then in the patient's home to assess their progress. Once a patient is more stable and able to leave the home, the patient will then transition back to the supervision and care of their primary care physician.
"El Camino Hospital's partnership with Pathways Home Health & Hospice and Bay Area House Call Physicians is part of our ongoing commitment to the health and well being of our patients," said Tomi Ryba, President and CEO of El Camino Hospital. "Keeping our patients safe in their homes after their discharge is another way to help them manage their health."
HARP is a chronic care management program that addresses the unique needs of community elders suffering from chronic illnesses, which can cause repeated hospitalizations and reduce their ability to live independently. The Center for Disease Control estimates that 80% of older American have at least one chronic condition and 50% have at least two. Without focused, evidence based interventions; these elders are at high risk of repeated, preventable medical emergencies that can lead to re-hospitalization.
"Pathways is very enthusiastic about the HARP program. The transition from hospital to home can be a very challenging process for patients and their families. Hospitalizations typically result in new patient care instructions and multiple and new medications, an overwhelming time for many. HARP is designed to help the patient and family move through this challenging time," said Barbara Burgess, CEO of Pathways Home Health & Hospice.
"HARP is an excellent example of three health care organizations working together in support of a vulnerable patient population," said Dr. David Jones, Founder, Bay Area House Call Physicians. "This program will help keep patients in their homes and ease their recovery from a hospital stay."
About El Camino Hospital
El Camino Hospital is an acute-care, 542-bed, not-for-profit and locally governed organization with campuses in Mountain View and Los Gatos, Calif. In addition to state-of-the-art emergency departments, key medical specialties include heart and vascular, cancer care, urology, orthopedic and spine, neuroscience, genomic medicine, and the only Women's Hospital in Northern California. The hospital is recognized as a national leader in the use of health information technology and wireless communications, and has been awarded the Gold Seal of Approval from The Joint Commission as a Primary Stroke Center as well as back-to-back ANCC Magnet Recognitions for Nursing Care.
About Pathways Home Health & Hospice
Pathways Home Health & Hospice is a non-profit community based organization. Celebrating its 35th Anniversary, Pathways was founded in 1977 by a group of physicians who saw a community need for compassionate end-of-life care. That year Pathways served 12 patients. Pathways now serves over 5000 families annually in five Bay Area counties.
Pathways cares for patients in their place of residence, whether it be their home, hospital, nursing home or assisted living facility. Owned by El Camino Hospital and Sequoia Hospital since 1986, Pathways is accredited by The Joint Commission and is a member of the Visiting Nurses Association of America, California Hospice & Palliative Care Association, and the California Association of Health Services at Home.
About Bay Area House Call Physicians
Bay Area House Call Physicians was started in February 2006 to improve access to medical care for elderly and disabled patients in the Bay Area. We provide exceptional, compassionate, and convenient medical care to the Bay Area. Bay Area House Call Physicians employ board-certified physicians, hire competent staff, and use state of the art equipment to ensure the best medical care. We improve both the access to care and the quality of care for people who have trouble getting to a doctor's office, and we try to prevent the need for hospitalizations by providing house calls. Our patients enjoy first-rate health care in the comfort of their own home.
About the Company: