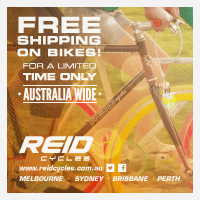 Melbourne, Victoria (PRWEB) May 24, 2013
Reid Cycles, the best value bicycle provider company in Australia, is pleased to announce a brand-new incentive for 2013 - limited-time free shipping on all bicycle orders placed through the Reid Cycles website at http://www.reidcycles.com.au. Combined with the already-low prices on Reid Cycles products - thanks to wholesale purchasing without all of the price-inflating middlemen - the current offer is ideal for those who want to get out and pedal to keep fit.
"Australians love to get out and enjoy this beautiful country on their bicycles," Reid Cycles founder and CEO James Reid said. "We're pleased and honored to provide Australians everywhere with the tools to get out and get moving on two wheels. Reid Cycles cuts out the middlemen - delivering quality, efficient bikes to riders of all age and skill at unbeatable prices. With these prices and our vast selection, Reid Cycles is proud to be Australia's best value bicycle store."
This special - available only for a very limited period - is open to any rider throughout the country, from Perth to Sydney and everywhere in between. Not only is the delivery waived, but the offer comes with 12 months of servicing and a lifetime warranty on the frame and forks. Additionally, each new bicycle comes with a valuable set of accessories - including a D lock, track floor pump, basic lights and a drink bottle and cage (a $100 value).
Riders can select from the unbeatable selection Reid Cycles offers, everything from road bikes and hybrid bikes to our customised single-speed bikes, ladies vintage bikes and beach cruisers. Pick out one of the advanced Reid Falco Sport race-ready road bikes, with a Shimano Tiagra groupset and lightweight alloy frame, for unparalleled speed and support. Tackle the mountain trails with the affordable, lightweight and super-responsive Reid series of mountain bikes. Need to get through the urban jungle? The Reid Griffon Singlespeed or Red Harrier bikes offer the quick-response maneuverability you need. Looking to just cruise on down to catch the waves? The Reid Beach Cruiser has the look - and the comfort - you need for that trek to the sun and the sand.
All of Reid Cycles' bicycles are designed and sourced directly through leading manufacturers - ensuring that the bicycles are made with the highest-quality materials and craftsmanship, and that there are no third parties involved to knock up the price. The savings go right back to the rider. Now, with the limited-time free shipping, there's never been a better time to pick up your two-wheeled transport.
Australian owned and operated, Reid Cycles operates four retail stores in Melbourne, Sydney, Perth and Brisbane; customers are invited to come in and preview Reid's new bicycles 7 days a week! The entire selection of bikes - including beach cruisers, commuter bicycles, road bikes and mountain bikes - can also be found online at reidcycles.com.au.
About Reid Cycles
Reid Cycles was originally founded by James Reid, a cycling enthusiast who had the intention of providing cyclists with a great quality bike at an unbeatable price.
Now with four thriving locations in Australia's Eastern states and a popular online bike store, Reid Cycles is unique in that it's one of the only bike brands in Australia to sell direct to the public at wholesale prices. They do so by cutting out the middlemen – buying directly from a well established manufacturer in China who produce approximately 4 million of the biggest brand bikes per year – and then selling direct to their customers.
To learn more about Reid Cycles, visit http://www.reidcycles.com.au/about.html/