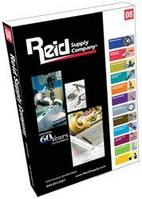 We'll do whatever it takes to get the job done. Our customers always come first.
Muskegon, MI (PRWEB) March 10, 2008
Reid Supply Company, a global distributor of industrial parts, components and supplies, is celebrating 60 years serving customers. Founded in 1948, their first catalog was 16 pages and was mailed to 5,000 machine shops in the Midwest. Today, Reid Supply Company offers online and print catalogs featuring over 51,000 products, serving multiple markets including industrial, manufacturing, engineering design, automotive, chemical, marine, medical, food processing, lumber, woodworking, publishing, packaging and material handling markets in all 50 states as well as 40 countries.
Reid Supply announced today the launching of their new ad campaign "Reid's Got More Than You Think" which emphasizes their product depth in 12 product categories. In November 2007, they re-launched their e-commerce web site, ReidSupply.com, with industry leading search and navigation capabilities. Reid Supply is the only industrial distribution company that offers over 41,000 free CAD downloads on their web site. The web site also provides monthly sales fliers, free downloadable product information packets called Resource Guides, Reid SupplyLine monthly enewsletters, and a new online catalog, which is a digital representation of their printed catalog as an easy online ordering alternative.
In addition to the new web site, Reid Supply also launched their first full color product catalog with over 51,000 products. Their product offering is organized into 12 color-coded categories including manual controls; clamps and workholding; tooling components; fasteners and hardware; leveling devices and vibration control; material handling; bearings and power transmission; metalworking; maintenance, repair and operations (MRO); pneumatics and hydraulics; structural systems; and safety supplies.
Reid Supply has been known for serving the customer since it was founded in 1948. The rallying cry for Reid Supply is "Others may be bigger, but nobody serves the Customer better."
"We really want to service the heck out of our customers and keep them coming back." - Reid Supply President John Carrier
"We'll do whatever it takes to get the job done. Our customers always come first." - Reid Supply Director of Marketing Greg Palmer
Reid Supply Company Celebrates 60 Years (Page 2)
Partnering with hundreds of top brand name suppliers like DE-STA-CO, Vlier, Dimco Gray, Kipp, L.S. Starrett, SMC, Iscar, ADB, Garr and Avibank, Reid Supply offers thousands of high quality products at affordable prices. In 2008, Reid Supply has added several thousand skus to their product offering. Due to the size of the product expansion in the Bearings and Power Transmission category, Reid Supply expanded into a second warehouse in Indianapolis.
Other benefits include:

Rapid Response Team committed to taking special orders for non-stock products
Customize standard products through their Total Quality Machining company
24/7 ordering online
Same day shipping
No minimum orders
For additional information, contact:
Greg Palmer
Reid Supply Company
Phone: 231-777-3951
Fax: 231-767-3882
Reid Supply.com
Reid Supply Company has been providing high quality industrial components and supplies as well as exceptional customer service for 60 years. In celebration of this landmark, they have launched a multitude of marketing initiatives including the "Reid's Got More Than You Think" campaign, their first 800-page, full color catalog, a newly designed ReidSupply.com web site with industry leading search and navigation, an online catalog, monthly Savings Spotlight promotional fliers, monthly informational Resource Guides, Reid SupplyLine monthly enewsletters with a complete eLibrary, online calculators and a robust "Ask the Expert" technical support module.
# # #