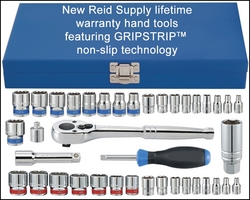 By offering our new line of hand tools we're taking care of customers by providing them the best new products as well as traditional old-fashioned customer service that's now hard to find
Muskegon, Michigan (PRWEB) September 9, 2008
Reid Supply Company, a Michigan-based global distributor of industrial parts, components and supplies, adds a new line of lifetime warranty hand tools with a unique differentiator to rival competitor's tools.
"Our new line of hand tools feature larger size markings for easy identification and our sockets and sets incorporate a new color coded, patent pending, 'GRIPSTRIP™' for easy non-slip handling," says Michael Evans, Reid Supply product line manager. "The tools have a rubber-based, chemical-resistant material that surrounds each socket. This provides plenty of non-slip surface difference from the metal, which makes the socket less likely to slip out of the user's hands. Also, if you need a metric socket, grab the blue banded tool. For standard American size, choose red. Additionally, we offer a lifetime replacement warranty on all of these tools for both the handyman and industrial user."
The new patent pending surrounding GRIPSTRIP™ technology for the 3/8", 1/2", 3/4", and 1" sockets and sets offer customers a new alternative to socket sets. Reid Supply also presents lifetime warranties on their new Screwdrivers, Accessories, Wrenches and Wrench Sets, all featured at ReidSupply.com.
"We are very proud to offer these high quality hand tools, adding yet another dimension of industrial supplies to our online and catalog customers," says John Carrier, President of Reid Supply. "By offering a lifetime warranty on these more friendly yet durable tools, we are showing that we listen to our customer's needs and requests."
Reid Supply offers virtually every level of industrial supply product in the world. Welcoming special requests and the hard-to-find industrial products, the company prides itself on being very responsive to customer inquiries and requests. It is because of those requests that Reid acquired this line of lifetime warranty hand tools.
"In this, our 60th Anniversary year, we continue to expand our product offering," says Greg Palmer, Director of Marketing for Reid Supply. "But more importantly, we continue operating with our same commitment to the very best customer service and support, as we always have. We genuinely want to serve the customer better than anyone in the industry."
Reid's product offering features 12 color-coded categories including:

Manual Controls
Clamps and Workholding
Tooling Components
Fasteners and Hardware
Leveling Devices and Vibration Control
Material Handling
Bearings and Power Transmission
Metalworking
Maintenance, Repair and Operations (MRO)
Pneumatics and Hydraulics
Structural Systems
Safety Supplies
In addition to the newly designed easy-to-use catalog and other print materials, Reid Supply re-launched their e-commerce web site, ReidSupply.com, with state-of-the-art search and navigation capabilities. The company is the only industrial distribution company that offers over 42,000 free CAD downloads on their web site. The web site also provides monthly sales fliers, free downloadable product information packets called Resource Guides, Reid SupplyLine monthly enewsletters and a new online catalog, which is a digital representation of their printed catalog as an easy online ordering alternative.
"By offering our new line of hand tools we're taking care of customers by providing them the best new products as well as traditional old-fashioned customer service that's now hard to find," says Carrier. "We believe that our rallying cry, 'While others may be bigger, nobody will serve the customer better' is the key to staying strong and growing in a very competitive marketplace."
###