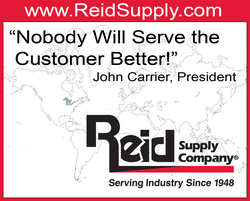 However, we know that choice alone is never enough. We must continue our tradition of striving to serve the customer better than anyone in the industry.
Muskegon, MI (PRWEB) June 26, 2008
Reid Supply Company, a Michigan-based global distributor of more than 52,000 industrial parts, components and supplies, expands its Bearings and Power Transmission offerings to better serve customer demands.
"We believe that the only way we can effectively grow in a global economy is to show everyone that we are their best choice for industrial, safety and engineering supplies," said John Carrier, President of Reid Supply. "However, we know that choice alone is never enough. We must continue our tradition of striving to serve the customer better than anyone in the industry."
Scott McIntire, Customer Service Manager for the company, knows that his front-line customer service reps are one of the important keys to Reid's success. "Over and over again our customers tell us that they appreciate our team's dedication to get the products and answers they need to succeed."
According to Greg Palmer, Director of Marketing, adding over 3,800 new SKUs to their Bearings and Power Transmission lines warehoused in Indiana and another 2,700 at the Muskegon headquarters provide Reid customers greater selection in the industrial supply marketplace. Reid Supply offers superior Bearings and Power Transmission brands such as IGUS, Bishop Wisecarver, and Bunting Bearings as well as a host of other well-known names. Add to that, access to over 100,000 additional Bearings and Power Transmission products by special order and Reid can truly say, "Reid's Got More Than You Think."
2008 marks the company's 60th anniversary year and Palmer says that Reid has definite growth goals. "We've been around for 60 years and that's no accident. An obvious method to continue our growth is to expand our product offering, but perhaps more importantly is that we continue operating with the same excellent customer service and support as we always have."
While the company expands and continues to offer great price points, Reid's management believes that it is ultimately the employees that customers relate to and return to. According to McIntire it is this growth and dedication to customer satisfaction that helps to keep good people employed doing good work.
Reid's product offering features 12 color-coded categories including:
-- Manual Controls
-- Clamps and Workholding
-- Tooling Components
-- Fasteners and Hardware
-- Leveling Devices and Vibration Control
-- Material Handling
-- Bearings and Power Transmission
-- Metalworking
-- Maintenance, Repair and Operations (MRO)
-- Pneumatics and Hydraulics
-- Structural Systems
-- Safety Supplies
In addition to the newly designed easy-to-use catalog and other print materials, Reid Supply re-launched their e-commerce web site, ReidSupply.com, with state-of-the-art search and navigation capabilities. The company is the only industrial distribution company that offers over 41,000 free CAD downloads on their web site. The web site also provides monthly sales fliers, free downloadable product information packets called Resource Guides, Reid SupplyLine monthly enewsletters and a new online catalog, which is a digital representation of their printed catalog as an easy online ordering alternative.
"We take care of customers by offering them the best choices and the best customer service in our industry," says Carrier. "Expanding our Bearings and Power Transmission lines helps us to give customers more of what they need while keeping Reid Supply strong in a very competitive marketplace."
###