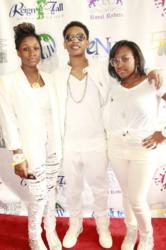 "I am just glad they are able to see the importance of giving back to the community," added Treasure, 17. "They see that its cool to have fun but more important to have fun by raising funds for great causes."
Atlanta, Georgia (PRWEB) April 03, 2013
Some 30 kids spent their spring break in Atlanta thanks to Kenedi Treasure, a teen-owned company that boasts a make-up, watch and t-shirt line as well as produces celebrity events for youth. Kenedi and Treasure Bishop, the sisters behind the brand invited the children to join them for their spring break weekend which included visits to several of Atlanta's kid-friendly sites and theme parks.
The youngsters were also given VIP treatment at the Kenedi Treasure Easter Egg White Celebrity Teen Fundraiser, held at the Atrium on Sunday, March 31, 2013. In addition to having their own VIP room, the kids who ranged in age from 8 to 16 got up close and personal with Jacob Latimore, Alix Lapri and other teen stars who came into the room between performances to hang out and thank them for supporting their music.
The fun continued on Monday when Kenedi and Treasure took the youngsters on a tour of their favorite Atlanta hangouts including Mojo's Eatery and Six Flags over Georgia.
"It was an awesome experience for the kids," said 16 year-old Kenedi. "Many of them have never been to Atlanta so it was a great time for all of us."
"I am just glad they are able to see the importance of giving back to the community," added Treasure, 17. "They see that its cool to have fun but more important to have fun by raising funds for great causes."