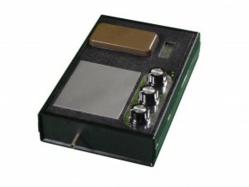 Imagine dialing the cosmic or planetary frequencies into your orgone generator with absolute simplicity
Dallas, TX (PRWEB) May 15, 2012
Many in the metaphysical tools industry are stunned by the release of the new PFC 2000 precision frequency chi generator with digital controls. The PFC 2000 is an all new type of Welz Chi Generator / Life Force Generator that uses a precision controlled digital input to set the frequency. Because this design takes advantages of all of the advances in chi generator technology up to this point it is also a "water quality" unit, meaning that it also functions as a Welz Water Optimizer at no additional cost. Unlike previous designs this unit was designed and built by Karl Welz Jr., son of Karl Hans Welz who invented the first chi generator in 1991. This is the very first orgone generator available to the public with a built in digital control allowing the user to set extremely precise frequencies. Operation of the unit begins by switching on the power switch located on the side of the unit opposite the output pipe. The three rotary knobs on the top of the PFC 2000 are used in tandem to set the frequency. The first knob is for coarse frequency tuning, followed by medium range and the third is for fine-tuning of the frequency. By manipulating the three knobs precise frequencies can be set in a ranch from 1Hz to 500Hz. Visual feedback is provided by the built in LCD display.
"The idea of dialing an exact pulse frequency is very exciting. Imagine dialing the cosmic or planetary frequencies into your orgone generator with absolute simplicity.", says Mike Davino , product specialist.
The power output of the PFC 2000 Precision Chi Generator / Life Force Generator is equivalent to that of the LPOG 2400DL or the RAD 2000. An additional feature of this unit is the all-new "ite" stick pad for advanced operators to achieve more precise and personalized settings. "A lot of people in the metaphysical community are really shocked. There is a lot of excitement about the ability to generate life force at extremely precise frequencies.", says reiki master, Guna Segurani.
As of May 15, 2012 the PFC 2000 is now available for immediate delivery. For more information visit the radionicsbox.com website.