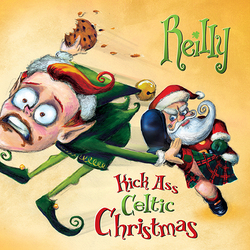 Dear Santa (I Can Explain)
Los Angeles, CA (Vocus) November 21, 2008
The Milwaukee-based Celtic Rock band Reilly is set to to debut their new Holiday collection "Kick Ass Celtic Christmas" on Oglio Records, a Fontana/Universal distributed label. Melding classic Holiday standards with the high energy Celtic Rock that Reilly has become known for since their formation in 2000 with their consistent touring and raucous live show reputation, "Kick Ass Celtic Christmas" also features a trio of Reilly original compositions including the hilarious "Dear Santa (I Can Explain)", the touching "Bells Over Boston" and "For You On Christmas", a tribute to our troops fighting overseas.
According to Michael "Tinker" Tierney, "Reilly has built a name for ourselves by blending Celtic heritage with modern rock energy going back to our debut release 'Beyond The Pale' and 'Saints of the Ocean'. The new Holiday release, 'Kick Ass Celtic Christmas', gives us a chance to share our sound with an audience that possibly be exposed to what we do on their own, and at the same times allows Celtic music fans to celebrate the Holidays with the music they've always known, but finally mashed up with the music they love."
Reilly is Michael Tierney (Guitar, Bouzouki, Whistle, Harmonica, Vocals), Bruce Troeller (Accordion, Banjo, Mandolin, Vocals), Kimmy Unger (Fiddle, Vocals), Joe Neumann (Bass, Vocals) and Brian Bruendl (Drums, Vocals). "Kick Ass Celtic Christmas" was recorded by Shane Olivo and features guest appearances from Milwaukee musical mainstays Chris Conrad, Mitch Cooper, Matt Ostlund, John Steffes, members of the Mighty Lumberhorn, and the nationally renowned bag-piper Kimberly Siegel.
For Reilly tour dates, streaming music, 300 DPI cover art, photos and more, visit:
http://www.reillyrocks.com
http://www.myspace.com/reillyrocksirish
http://www.youtube.com/reillyrocks
http://www.oglio.com
Reilly "Kick Ass Celtic Christmas" Track Listing
1. Christmas In Killarney
2. We Three Kings Of Orient Are
3. Dear Santa (I Can Explain)
4. Baby, It's Cold Outside
5. For You On Christmas
6. The Little Drummer Boy
7. Father Christmas
8. The Most Wonderful Time Of The Year
9. Paddy's Christmas
10. Mele Kalikimaka
11. I Saw Three Ships
12. Bells Over Boston
13. Good King Wenceslas
###