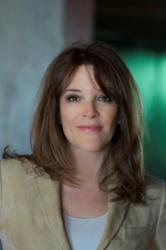 "It's as problematical to idolize our partner as it is to judge him or her. Only Spirit is the source of our completion, and thinking otherwise is delusional.
Los Angeles, CA (PRWEB) February 07, 2012
This President's Day Weekend, participants will learn from Marianne Williamson the spiritual tools of fostering powerful, joyous and intimate relationships. This intensive Workshop on romantic relationships, The Enchanted Love Workshop: Building the Inner Temple of the Sacred and the Romantic, can be attended live in Los Angeles or via live streaming (details for both can be found on http://www.marianne.com).
The workshop will be valuable for women and men—whether single, coupled, gay or straight—who are seeking either to attract a partner or to deepen an existing relationship. This special weekend will provide guests with valuable spiritual, psychological and emotional insight into the nature and practice of true love.
During the Enchanted Love Workshop, spiritual inquiry will include:

How do we inwardly prepare ourselves for love?
What deeper forces foster a powerful romantic relationship?
What part does the masculine/feminine dynamic play in navigating romantic relationships?
What is true intimacy, from a spiritual perspective, and how is it achieved?
How can a romantic relationship become a portal to spiritual growth? And how can spiritual growth become a portal to more powerful romance?
"It's as problematical to idolize our partner as it is to judge him or her," says Williamson. "Only Spirit is the source of our completion, and thinking otherwise is delusional.
"If I think that you're the source of my happiness, I am tempted at least subconsciously to try to manipulate and control you. And that won't attract you; it will repel you. Once I make it my spiritual work to realize my own completion, then I approach you not with a need to steal your energy, but with a desire to play and create with you. Obviously, the latter is far more attractive."
Williamson teaches that from a spiritual perspective, relationships are assignments: couples are brought together by a Divine Intelligence for as long a period of time as serves the mutual soul growth of both partners. When physical proximity no longer serves that growth and the relationship ends, this doesn't necessarily denote failure. Relationships are of the spirit and not of the body, and therefore last forever on the level of mind.
"We are brought together for the purpose of healing. All of us have rough edges to be smoothed out, and one of the ways that happens is when our rough edges rub up against someone else's," says Williamson. "To the ego, that kind of rough experience is a reason to leave the relationship. To the Spirit, the opportunity here is to choose the mercy and compassion that smoothes out all things."
Williamson gives the examples of a woman whose father emotionally abandoned her, meeting up with a man whose mother emotionally smothered him. Because of their childhood experiences, she might tend to be needy, while he might tend to be commitment phobic.
"The rough path is where she subconsciously tries to control him, and he subconsciously seeks to keep her at a distance. The transcendent path is where she takes responsibility for her wound, refuses to project her father's behavior in the past onto the man standing in front of her, and prays to Spirit to heal her by helping her forgive her father and enter into the present moment not carrying her past with her. As she develops the emotional skill set to show deep appreciation for the man standing in front of her, the light of that moment casts out the neurotic thought forms carried over from the past," says Williamson. "His work takes different form, but is essentially the same."
"This work is not always easy, but whether or not we do it determines how a relationship will unfold. Coming from ego, we simply trigger each other wounds. With Spirit, we heal each other's wounds. An intimate relationship is the most intense experience of either one."
Williamson continues, "The initial high of romantic fervor is not simply an illusionary experience of hormonally-induced mutual projections. It's not an unreal experience that is bound to ultimately crash into reality, so much as a spiritually Real experience that tends to crash into the unreality of our normal personality self. The initial fervor is a gift of grace, a blast of Light; the issue is to form a personality structure that can hold all that light. That's the purpose of the work we're doing: to establish such an authentic spiritual connection that the delusions of the ego can't infect the relationship."
According to Williamson, an authentic spiritual bond can't be based on personality or physicality alone, because on the material level none of us are perfect. It's when we develop the skill to see beyond the physical to the spiritual truth of who we are—and most importantly, the ability to stay with that truth even when appearances show us something different—that we transcend the ego forces which would otherwise tear us apart.
This workshop addresses the fear of love that we all feel, as well as the spiritual keys to unlocking the authenticity and true skill that allows us to connect with a beloved. "It takes conscious work to create the psychological and emotional freedom to disclose our deepest feelings to each other. The risk, the vulnerability… such things can be emotionally perilous outside a spiritual context." Williamson focuses on the deep practice of forgiveness, prayer and meditation as steps to the cultivation of sacred space within and between us.
"We might be tempted to think that spirituality and intimacy are very different categories. In fact, spirituality is key to our success at everything because it's the key to our capacity to love."
The Enchanted Love Workshop: Building the Inner Temple of the Sacred and the Romantic will be held Friday, February 17, 2012 at 7:30 pm through Sunday, February 19, 2012 at 1:00 pm. Please go to http://www.marianne.com for details.
About Marianne Williamson
Marianne Williamson is an internationally acclaimed spiritual author and lecturer. Six of her ten published books have been New York Times Best Sellers. Four of these have been #1 New York Times Best Sellers.
A Return to Love is considered a must-read of The New Spirituality. A paragraph from that book, beginning "Our deepest fear is not that we are inadequate. Our deepest fear is that we are powerful beyond measure..." —often misattributed to Nelson Mandela's Inaugural address—is considered an anthem for a contemporary generation of seekers.
Marianne's latest New York Times Best Seller is A Course in Weight Loss: 21 Spiritual Lessons for Surrendering Your Weight Forever. A Course in Weight Loss was selected by Oprah to be one of her Favorite Things in 2010.
Marianne's other books include The Age of Miracles, Everyday Grace, A Woman's Worth, Illuminata, Healing the Soul of America and The Gift of Change.
She has been a popular guest on television programs such as Oprah, Larry King Live, Good Morning America and Charlie Rose.
Marianne is a native of Houston, Texas. In 1989, she founded Project Angel Food, a meals-on-wheels program that serves homebound people with AIDS in the Los Angeles area. Today, Project Angel Food serves over 1,000 people daily.
In December 2006, a NEWSWEEK magazine poll named Marianne Williamson one of the fifty most influential baby boomers. According to Time magazine, "Yoga, the Cabala and Marianne Williamson have been taken up by those seeking a relationship with God that is not strictly tethered to Christianity."
###