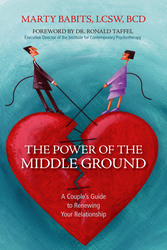 One of the best gifts a couple can give each other is the promise of renewal
New York, NY (PRWEB) January 29, 2009
Chocolates are nice and flowers rarely disappoint. But for relationships on the rocks, nothing says, "I love you" like the promise of renewal. In a breakthrough guide, seasoned couples therapist and educator Marty Babits, LCSW, BCD, shows couples how to successfully grapple with the differences that arise in any relationship.
"We've learned over the years that love isn't nearly enough to help couples repair the normal wear and tear that occurs in most relationships," says Babits, psychotherapist and author of the newly released The Power of the Middle Ground: A Couple's Guide to Renewing Your Relationships (Prometheus Books, 2009). "Too often even the smartest people have difficulty communicating, usually because they don't yet have the skills, which can definitely be learned."
For years, Babits (http://www.powerofthemiddleground.com) has helped couples envision--and ultimately embrace--a place that brings their potential for love and compassion alive. He calls this the "middle ground."
"Couples first need a refuge in which they can safely air grievances and frustrations," says Babits who has been in private practice for more than 25 years. "The 'middle ground' offers a respite from the rancor that often arises when couples cannot overcome their differences. Whether couples are engaged in bouts of explosive anger or deafening silence, unless they can find a path toward reconciliation, their difficulties will overwhelm them. The 'middle ground' can lead them to a more peaceful--and, ultimately, fulfilling place."
For many, Valentine's Day is a love fest, complete with sweets, flowers and lingerie. But for some, this holiday is a painful reminder of lost romance and broken promises. "One of the best gifts a couple can give each other is the promise of renewal," says Babits. "Unfortunately, the glitz of Valentine's Day doesn't always jive with the reality. To temper expectations and close the day without despair, couples can recommit toward rebuilding and reinvigorating their relationships."
Drawing on many years of experience, Babits's The Power of The Middle Ground contains numerous tips and exercises designed to jumpstart stagnant relationships. Babits addresses a wide range of issues, including:

Pathways for reaching the middle ground
Special considerations for same-sex couples
The impact that children have on a couple's relationship
Older couples' issues
Deep-seated myths that do more harm than good
Anecdotal stories provide a realistic view of what relationships look like and couple-strengthening exercises give readers an opportunity to practice the tips and strategies. Reaching beyond the traditional couple's self-help guide, The Power of the Middle Ground not only articulates the problem but offers smart, satisfying, and, ultimately, long-lasting solutions.
###