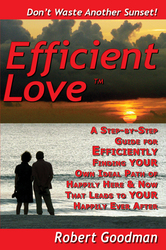 www.EfficientLove.com [Efficient Love]
Clearwater Beach, FL (PRWEB) August 23, 2007
A dozen years ago, Robert Goodman (author of the new relationship advice book " Efficient Love ") started a quest to find his own perfect-for-him Heroine and live happily ever after. It didn't take long for this CEO and MBA to recognize how absurdly inefficient the search for love can be – it also didn't take him long to start creating a better, much more efficient, method for us all.
Tapping the cumulative experiences he gained from his MBA, his management consulting background as a professional "dragon slayer" and CEO coach along with his 25 years serving as the CEO of multiple companies, Goodman has analyzed dating and romantic relationships from an innovative and unique perspective to improve both the efficiency of the Quest and the probability of lasting success.
Goodman combined these skill sets with the additional, substantive experiences and insights he gained during 12 years of publishing his own "Novelist Seeks Heroine" website. With the site's two million-plus readers, his online interviews with tens of thousands of men and women about their relationships and the more than 10,000 Heroine "applications" for his own Quest that he received as a result of his website, he formed and refined what has now become The Good-Man Methodology for Efficient Love.
It was, in fact, this overwhelming response that he received for his own Quest that showed him that most everyone needed a much better way to find exactly the right perfect-for-them lover that they most honestly wanted.
Goodman's "Novelist Seeks Heroine" web site started out with just one page - to help him with the initial filtering and to eliminate some of the endless iterations of the usual, inane, first-date rhetoric. However, the site quickly grew to over 350 web pages as its focus expanded: both into a genuine quest for him to find the Heroine who matched all that he wanted in a lover and soul mate - and into an easy-to-implement Method which helped thousands of others find the relationship advice they had sought for themselves.
"What has now developed into a fairly comprehensive approach for finding Happily Ever After, originally started as a way for a somewhat introverted, somewhat middle-aged, somewhat average-looking man to more efficiently find a somewhat compatible date," said Robert Goodman. "As I saw how much those pages and my approach were helping others, my own Quest became secondary to refining the concept into a methodology that would be universally beneficial to the 100 million singles in America."
Goodman's method, and his insights, are now distilled and described in his just-released 184 page book, "Efficient Love." The book is available at Amazon, Barnes & Noble and most bookstores nationwide.
By efficiently identifying the general traits, characteristics, sexual issues and day-in day-out needs that each of the book's readers personally find important, they can very quickly recognize if a prospective lover is a genuine long-term match before the chemistry takes over and leads them into yet another dead-end relationship and through another Cycle of the Nine Stages of Love. The book also describes how to successfully battle several of the "dragons" that will block the reader's path of Happily Here & Now that leads to their own personal Happily Ever After. These include the Distance Dragon, the Kiddo Dragon and the Dollar Dragon. The book also shows how readers can significantly increase their number of prospective Heroes and Heroines by easily and quickly expanding what Goodman calls their "Known Universe."
When asked about his primary reason for writing the book, Goodman said, "Too many people waste too much of their lives inefficiently seeking something they have never fully defined. My hope is that the book will motivate readers to find their ideal, perfect-for-them, Hero or Heroine as quickly and efficiently as possible so they can share as many glorious days and nights of wonderful inefficiencies possible with their ideal lover. Life is just too short to waste even a single sunset."
As for Goodman, his Quest for his own perfect-for-him Heroine was successful, beyond all expectations, when he and his wife, Janet, found their own Happily Ever After by using The Method described in his book, "Efficient Love." Relationship advice and several excerpts from the book can be found at http://www.EfficientLove.com.
"Efficient Love" by Robert Goodman, MBA
ISBN-13: 978-0979295201
Publisher: Good-Man LLC
First Print Edition, Paperback, 184 pages, 9 X 6
Available at Amazon, Barnes & Noble and most bookstores nationwide
Contact:
Robert Goodman, CEO & Author
Good-Man LLC
Tel: 727.596.3737
Fax: 270.596.3732
Email: pr @ EfficientLove.com
Website: http://www.EfficientLove.com
###